Welcome to Paola Scarves. Each design is made to order. Inspired by my Connecticut garden. I design each scarf and print them in North Carolina. I then wash, hand sew and press them. Each scarf is printed on 100% polyester chiffon using a dye sublimation process that's permanent, washable and eco-friendly. Scarves finish to approximately 18" x 72" inches long- a lovely size on which to display your stunning new look. If you have any color questions, refer to the artwork across the bottom of each image as it's the most true-to-color. This is a long scarf with large flowers you can tie in many ways. See a few ways to tie them below.
See our brand new scarf called The Blues. Rich red roses and purple blue delphinium from the garden, perfect for a post holiday indulgence. How about you?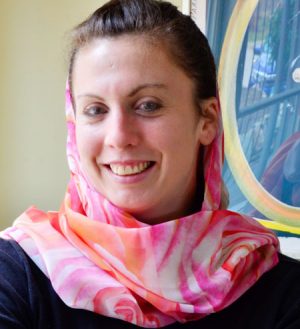 Watercolor, Frosty and Tangerine. Awesome new colors. It usually takes four weeks to print, sew and ship. I've purchased a few extra prints for gift emergencies! In stock today, one each of the following: Classic Bouquet and Fancy Bouquet, Frosty, Dancing Tulips, Aqua Darling, two Tangerine. Call or text to order 203-206-5819, you can have them in under two weeks. Pay by credit card or PayPal.

Scarves are $42.00 each plus shipping. I accept all major credit cards. To place a custom order, just email me ( mary@paolaprints.com or text me (203-206-5819) the scarf you'd like to order. I'll email you an invoice that links to a secure site to enter your card information. I also accept Paypal. The system is efficient and will save you money. Each order is shipped direct to you in under 4 weeks. Shipping is USPS Priority, insured, $7.25 each scarf. Sales tax will be added only for Connecticut residents. Please contact me for information on overseas delivery.
You can subscribe to my blog for gardening tips and music. We have fun! You can follow the process from flower to scarf here.