The holidays were grand and thoughts turn to late season pruning. But first- still getting my right hand back post op. Started PT yesterday. Fall and winter scarf sales have been great-thanks to all who bought. I still have a few scarves in stock. New Spring designs coming soon.
Meet a brand new fabric I've just started printing. It's an all cotton lightweight gauze. It is lovely -a little heavier than the chiffon but awfully cool. I've run three hot blue designs to show it off. Here's one called The Blues.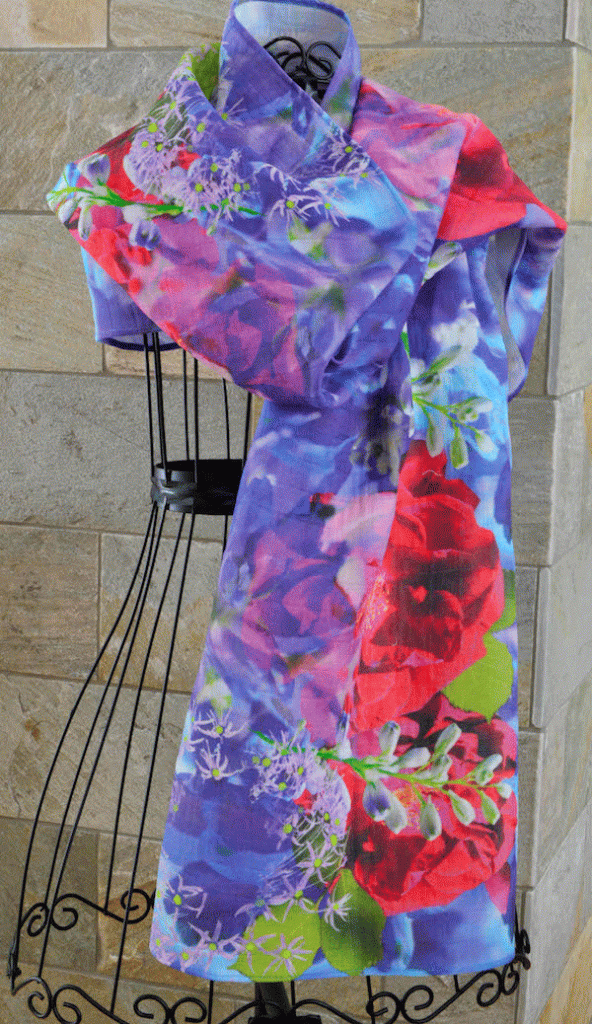 AND, I still have some on hand. See all our in-stock scarves here.
What do you think? Due to my hand I haven't prepared photos for the scarf pages yet but know, I have three printed and more will be ready to sell in February.
And, never fear! Visions of new designs are dancing in my head as I plot returning to the Computer and of course, a soon- to -emerge, spring growing season. Hope all your good visions come true!
Our scarves and pillows begin in the garden. I capture their growing cycle with a digital Nikon which offers limitless options for their use in my artwork. We currently have a line of gorgeous all cotton sateen pillows in stock. I ship direct anywhere in the United States. Our chiffon made-to-order scarves have enjoyed rapid sales starting Spring 2018. And, this fall, the new infinity scarves. You can order by text or email me direct.
Visit our blog, Pillow Talk where we enjoy sharing everyday life experiences- from nature to art, to home decor, and music. What's on your mind? Subscribe and join the conversation.
Mary (Maria Paola)
Artist & CEO, Paola Prints
Save
Save
Save
Save
Save
Save
Save
Save
Save
Save
Save
Save
Save
Save
Save
Save
Save
Save
Save
Save
Save
Save
Save
Save
Save
Save
Save
Save
Save
Save
Save
Save
Save
Save
Save
Save
Save
Save
Save
Save
Save
Save
Save
Save
Save
Save