I don't remember being so impressed by such relentless heat and rain. At least not since I've been gardening in Connecticut- for ten years plus. The abundance of Spring flowers has given way to verdant greens. Most beds are swimming in Golden Carpet in need of a trim. I'm not complaining. I adore it. Every time of year!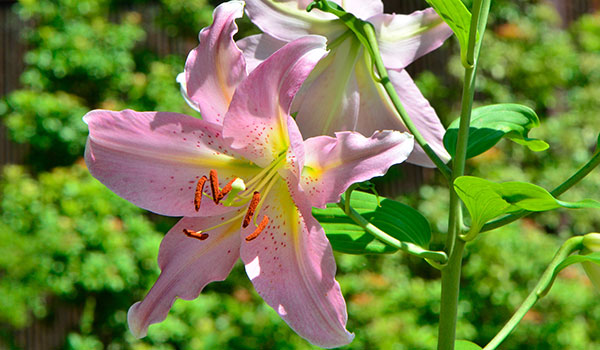 I'm just getting back into computer work. This Spring I was inspired by the peonies, although they were bloom stingy as I'd moved them last fall. This scarf layout is just a beginning but I like it so far. What do you think?

A new scarf inspired by early spring blooms-just printed. AND, we have some inventory too ( who doesn't remember COVID?)… ready to go

Have you tried our all cotton lightweight gauze? It's lovely -a little heavier than the chiffon but awfully cool. Here's one design called Aqua Darling.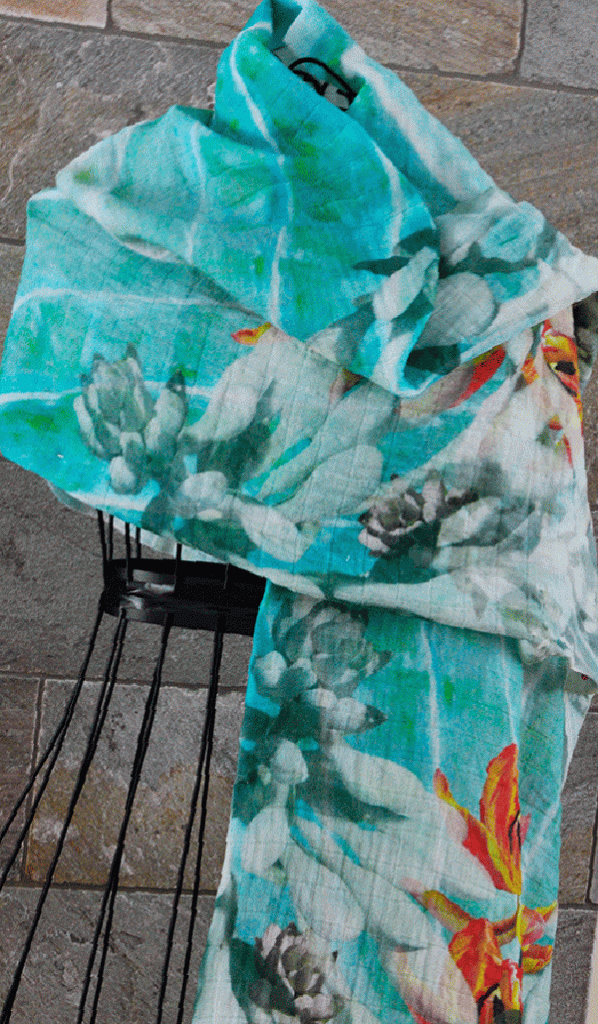 You can see our full line of scarf designs here- regular turn is 5-6 weeks. USPS is slower than per usual. If you'd like a scarf please email or text me ASAP. We accept credit cards through Square, cash through Paypal and Venmo. I'll send you a secure payment link for you to complete.
Pillow covers on sale!
We have a line of ten gorgeous all cotton sateen covers in-house. Covers are regularly $39.99 each plus shipping. On sale now- Three covers for $59.00 -plus shipping.
The covers are sized for a 20″ down insert. I have inserts in stock but they're costly to ship. If you want to pick up, call/text me. The custom made inserts are 20" hypoallergenic, white feather/down with a 100% cotton wove cover- Each insert is $10.00 plus shipping. Reach out and I'll text you a shipping estimate.
You can pay with PayPal or Venmo. We run credit cards through Square. Text or email – I'll send you an invoice for your selection.
I ship direct anywhere in the United States. You can order by text or email me direct.
2021- Early Fall Simsbury. Huge Two-Day Event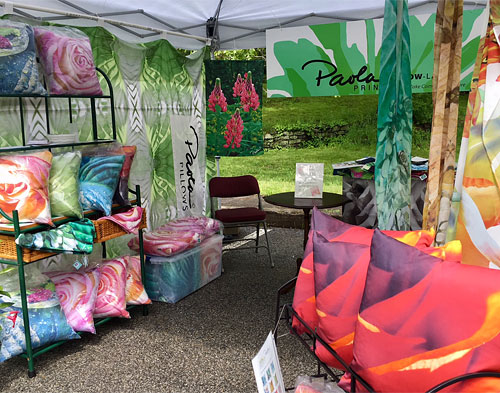 Visit our blog, It's A Wrap where we enjoy sharing everyday life experiences- from nature to art, to home decor, and music. What's on your mind? Subscribe and join the conversation.
Mary (Maria Paola)
Artist & CEO, Paola Prints
Save
Save
Save
Save
Save
Save
Save
Save
Save
Save
Save
Save
Save
Save
Save
Save
Save
Save
Save
Save
Save
Save
Save
Save
Save
Save
Save
Save
Save
Save
Save
Save
Save
Save
Save
Save
Save
Save
Save
Save
Save
Save
Save
Save
Save
Save