Miss Kim Ushers in Summer
If the little lilac tree (aka Miss Kim) at garden center is in bloom, June is here. It's very busy in the garden right now. I spend a couple hours daily weeding, mulching and pruning. Ours was a troubled winter in Connecticut with frosted azalea buds and the limited rain in early Spring has been challenging for trees too. Early bloomers like the Andromeda bushes have been losing their battle with a lace bug infestation that's required regular spraying and pruning to maintain health. The Japanese Maple is actually dropping leaves for lack of hydration. But! We're soldiering on in anticipation of stellar flowers as the weather normalizes. Besides, lack of rain has made spraying for deer damage less intensive.
Inside. I'm readying scarves and pillows for our first fair The Spring Art Walk in Lenox– coming up June 10-11- next weekend! We're trying on a new tent so it's an exciting time!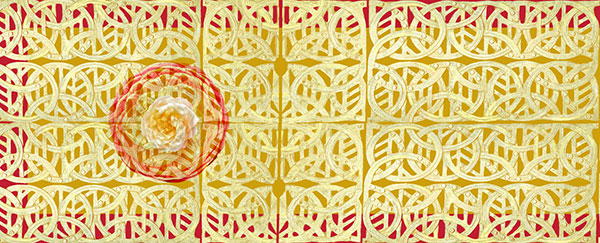 Seattle is a beautiful new scarf that came in and was SOLD within the week. I created it on the iPad using my pencil. Cool. Of course, all designs return to the iMac for final proofing and upsizing.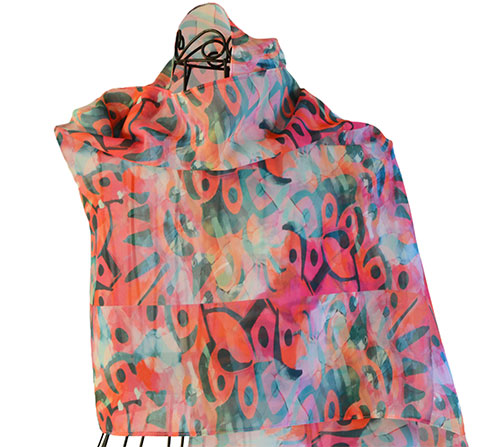 First Tulip points to a new direction as well. Expect the trend to continue in 2023. Look around for new beginnings. In stock and available to buy now!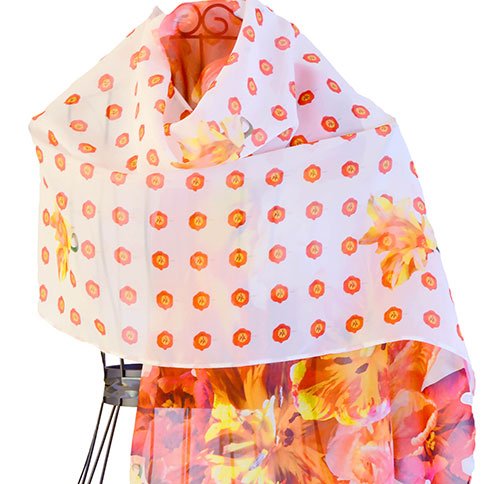 I produced a new scarf size and fabric. A smaller infinity in a soft knit- I call them Cozy. Three in stock.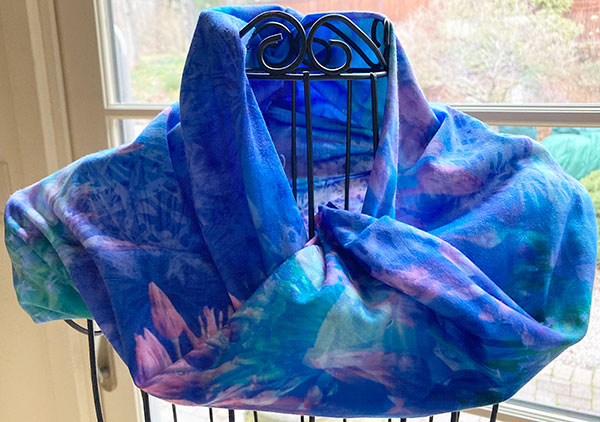 Looking for a new way to tie your scarf? Questions about fabric care? Tips and… I've added a few videos.
My creative work begins in the garden.
Paola Prints is an opportunity to share my designs with you. Wearable art to keep in touch with the world outdoors. Photography as the springboard for creating designs that delight the eye.
Both scarves and pillows are in stock, and additional designs available to order. Custom design work is welcome. What's on your mind?
Pillows, are sold as either covers or with soft down, hypoallergenic inserts.
Please reach out with with questions. If you get my voicemail, leave a message and I'll get right back with you!
Infinity Scarves. In stock now..Check out our new size too!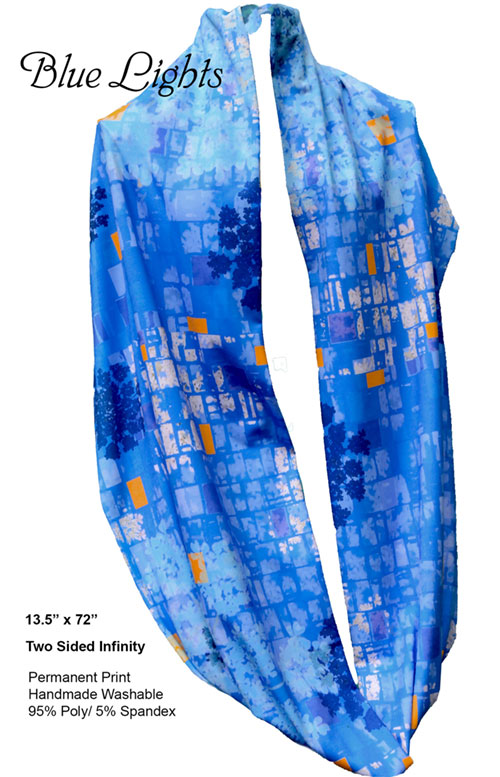 Consider any design printed onto all cotton lightweight gauze. Same size as chiffon ( 18″ x 72″) -but a little heavier than the chiffon. Here's Caroline in cotton gauze. A crowd favorite.
You can see our full line of scarf designs here- regular turn for scarves not in stock is 8 weeks. USPS is slower than per usual. If you'd like a scarf please email or text me ASAP. We accept credit cards through Square, cash through Paypal and Venmo. I'll send you a secure payment link for you to complete.
Pillow covers on sale!
We have a line of ten gorgeous all cotton sateen covers in-house. Covers are $39.99 each. Two for $60.00. Plus $11.00 USPS insured shipping.
The covers are sized for a 20″ down insert. I have inserts in stock but they're costly to ship. If you want to pick up, call/text me. The custom made inserts are 20" hypoallergenic, white feather/down with a 100% cotton wove cover- Each insert is $11.00 plus shipping. Reach out and I'll text you a shipping estimate.
You can pay with PayPal or Venmo. We run credit cards through Square. Text or email – I'll send you an invoice for your selection.
I ship direct anywhere in the United States. You can order by text or email me direct.
Visit our blog, where we enjoy sharing everyday life experiences- from nature to art, to home decor, and music. What's on your mind? Subscribe and join the conversation.
Mary (Maria Paola)
Artist & CEO, Paola Prints
Save
Save
Save
Save
Save
Save
Save
Save
Save
Save
Save
Save
Save
Save
Save
Save
Save
Save
Save
Save
Save
Save
Save
Save
Save
Save
Save
Save
Save
Save
Save
Save
Save
Save
Save
Save
Save
Save
Save
Save
Save
Save
Save
Save
Save
Save