Fibonacci-Nature's Golden Ratio
Fibonacci. Every artist knows the word intuitively, especially those of us working with nature. Think sunflowers, or hens and chicks, as in this brand new chiffon scarf just in. We've all seen images that manifest nature's own designs. Repeating patterns sharing a kindred symmetry. I captured this image in very early spring when the succulent's colors were wild- delightful as any flower.
Right now, the garden is full of turmoil- leaves are falling everywhere as summer abundance in white /scarlet hibiscus flowers and phlox continue. Soon, it'll be time to transplant as I make the necessary changes to ensure plant happiness for next year.
We had a fab fair in Sharon, Connecticut, August 5- Sold a ton- every designer's dream, right? I immediately ordered new scarves to sew, as well as some new designs just in. Check back soon. Come to our next show in New Hartford CT. A new pairing – fresh flower scarves and wine tasting- Jerram Winery– come see us on Saturday, September 30- 11-4:00.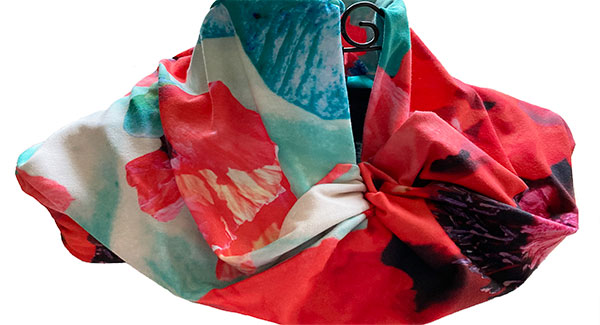 Looking for a new way to tie your scarf? Questions about fabric care? Tips and… I've added a few videos.
My creative work begins in the garden.
Paola Prints is an opportunity to share my designs with you. Wearable art to keep in touch with the world outdoors. Photography as the springboard for creating designs that delight the eye.
Both scarves and pillows are in stock, and additional designs available to order. Custom design work is welcome. What's on your mind?
Pillows, are sold as either covers or with soft down, hypoallergenic inserts.
Please reach out with with questions. If you get my voicemail, leave a message and I'll get right back with you!
Infinity Scarves. Blue Lights and Velvet Infinity-In stock now. $65.00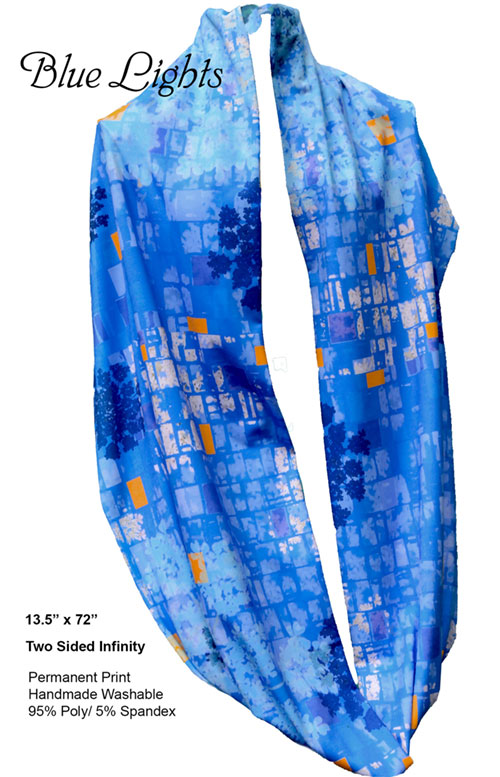 Consider any design printed onto all cotton lightweight gauze. Same size as chiffon ( 18″ x 72″) -but a little heavier than the chiffon. Here's Caroline in cotton gauze. A crowd favorite.
You can see our full line of scarf designs here- regular turn for scarves not in stock is 8 weeks. USPS is slower than per usual. If you'd like a scarf please email or text me ASAP. We accept credit cards through Square, cash through Paypal and Venmo. I'll send you a secure payment link for you to complete.
Pillow covers on sale!
We have a line of ten gorgeous all cotton sateen covers in-house. Covers are $30.00 each. Plus $11.00 USPS insured shipping.
The covers are sized for a 20″ down insert. I have inserts in stock but they're costly to ship. If you want to pick up, call/text me. The custom made inserts are 20" hypoallergenic, white feather/down with a 100% cotton wove cover- Each insert is $11.00 plus shipping. Reach out and I'll text you a shipping estimate.
You can pay with PayPal or Venmo. We run credit cards through Square. Text or email – I'll send you an invoice for your selection.
I ship direct anywhere in the United States. You can order by text or email me direct.
Visit our blog, where we enjoy sharing everyday life experiences- from nature to art, to home decor, and music. What's on your mind? Subscribe and join the conversation.
Mary (Maria Paola)
Artist & CEO, Paola Prints
Save
Save
Save
Save
Save
Save
Save
Save
Save
Save
Save
Save
Save
Save
Save
Save
Save
Save
Save
Save
Save
Save
Save
Save
Save
Save
Save
Save
Save
Save
Save
Save
Save
Save
Save
Save
Save
Save
Save
Save
Save
Save
Save
Save
Save
Save