Each scarf is designed from images I shoot in my gardens. I upload finished designs and the fabric is printed in North Carolina. Once returned, I wash, sew and press them. They're ready to ship. I'm currently designing for three fabrics- polyester chiffon, organic cotton gauze and heavy organic knit. All are permanent and washable.
Wedding Lilies and Snowflake- shown above- created from dreamy snow white lilies and hydrangeas. 18″ x 72″ long and printed on soft polyester chiffon. Wedding Lilies and several other new scarves, Hydrangea Blue, Snowflake and Tangerine Dream are in stock and will be coming online very soon so check back!
These Chiffon Scarves- In Stock Now
Turnaround time is approximately one week from the date of order for all scarves in stock.
Full Line-Chiffon Scarves- Updated May 2021
Organic Cotton Gauze Scarves
I can produce any chiffon scarf ( see chiffon chart above) in cotton gauze. The drape and feel is very different but some prefer it for colder weather. Right now, we have two cotton scarves in stock: One Aqua Darling and one Caroline. They are $45.00 each plus shipping. See full payment and shipping info below.
Infinity Scarves- New in 2020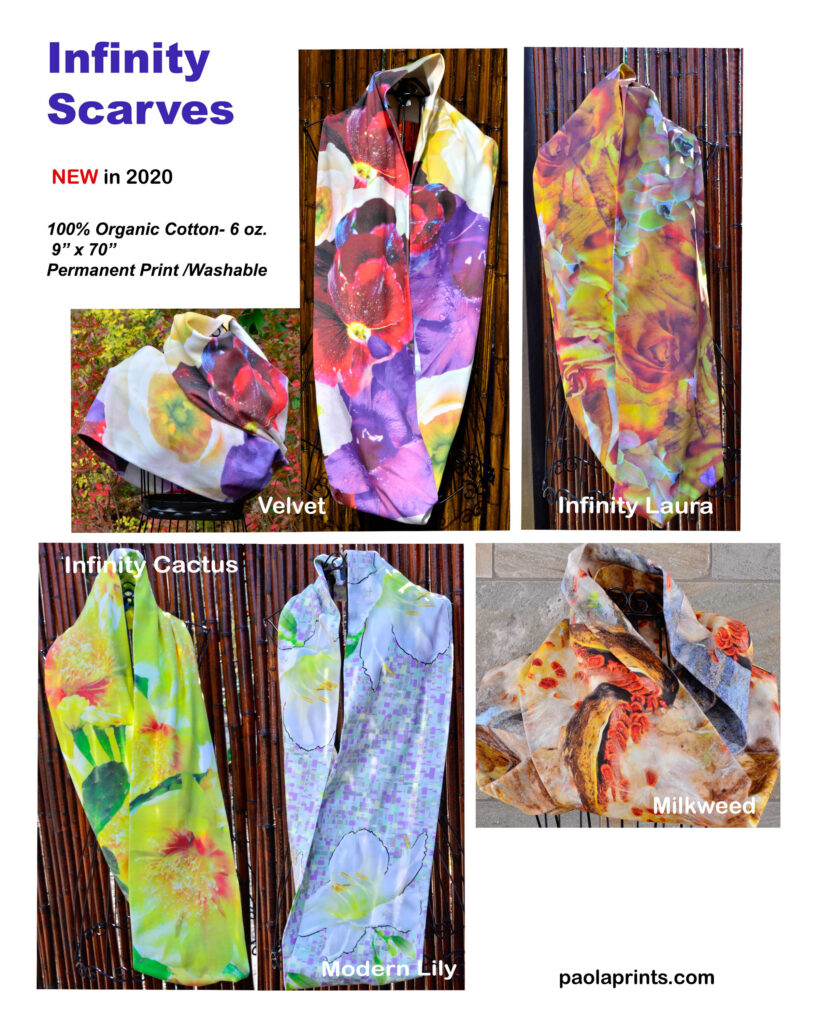 Custom orders for Chiffon and cotton gauze scarves NOT in stock are $45.00 plus shipping. Infinity scarves are $48.00 plus shipping. To place an order, just text or email me. Let me know the scarf you'd like to order. I'll email you an invoice that links to a secure Square site to enter your card information. I also accept Paypal and VENMO. The system is efficient and will save you money. Each order is shipped direct to you in 6 weeks. Shipping is USPS Priority, insured, $9.00 each. Sales tax (6.35%) is added only for Connecticut residents. Please contact me for information on overseas delivery.
You can subscribe to my blog for gardening tips and music. We have fun! You can follow the process from flower to scarf here.