I aspire to this quote attributed to Belgian landscape designer Jacques Wirtz. People know I ADORE plants and color, yet the stark white landscape in winter offers contemplation of another order. We can always use more space and quiet. Well conceived landscape design can offer that.
It's end-of-season plant sale time and a perfect time to reconsider what was lacking in last year's winter garden. I've landed on the importance of a couple evergreens of some sort. Big sale at our local garden shops today but no cigar.
I trotted out early and took some photos. A fourth and final dwarf spruce is important. Balance in the garden adds to a sense of peace. I've found that more than anything, this garden is a place I drift into early morning and at end of day, ostensibly to check on things, but more importantly, to draw from its quiet spaces. I've come late to landscape design and I find it challenges and refreshes. You have to follow and learn from all inputs if you're going to work it. It's a closed system where all elements affect one another. Example. We let the big trees around the garden go without pruning a few years and this summer, the plants below are struggling to light- getting all up and leggy. Time for the arborist!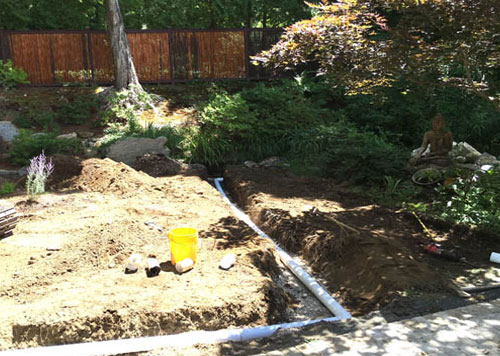 When we bought our house in 2009, the side yard that became the formal garden, was a wasteland. Nothing grew in it thanks to intense tree roots, poor soil, flooding and shade. Before I could even consider what kind of plants might like it, we had to improve the existing ground and decide where new beds might go. New soil had to be added on top of the existing ground so as not to offend the giant overhead maples. Very careful attention had to be given to the pitch of the land away from the new terrace and house. Perforated plastic pipe runs through every walkway out to curtain drains at the edge of the hill carrying rainwater toward the back yard.
I struck out on a spruce tree today. However, I found two new azaleas, tall grass and a showy pink perennial that will have a home in a few weeks when current residents start to die back.
Jacques Wirtz's son Peter, said in his eulogy that his dad "could intuitively and smoothly switch from modern asceticism to a wild cornucopia." Wild cornucopias sound very wonderful to this gardener! Great article about Mr. Wirtz.
What's not to like about Paola Pillows! Straight from the garden
Jackson Browne's song Call it a Loan, is not a song I was familiar with but offers reflection that's all too fleeting. It's from his 14th album, Standing in the Breach, released in 2014. I enjoy the company he plays with too. Sounds like a great album.
Related Images: