It's just that time of year. Going in a million directions in the race to summer's end. Activities are varied and never-ending. The weather has toned it down a bit and delayed garden maintenance looms large. There will be no more boxwood pruning but the rose bush, hostas and Hakuro Nishiki Japanese Willow were all fair game this week. The more tedious pruning will get done in early spring. It was good to get started. Onto bulb shopping. And those end- of- season family drive-bys. Do you find that family starts appearing in August and keeps on coming?
Tis the season for sunflowers. I'm ashamed to say that two of the plants I started from seed, live in pot. I couldn't clear space to plant them in the ground.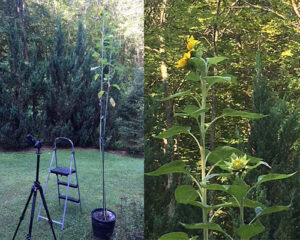 See how tall and skinny they are? They're desperate to get to sunshine. At seven feet, this girl is not going to climb the small ladder and balance a tripod. It'll be another day and a bigger ladder. I used to shoot daily when I had a bumper crop of sunflowers and capture them at different stages. Not this year.
I've been working on a new scarf concept. Will people accept florals that aren't just flowers? What do you think? Not quite there yet.
I really like the allium detail but I'm note sure if this is the scarf for them.
Here are our ten current designs. Yes, you can order them now!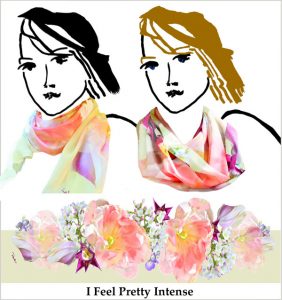 This week we drove to NYC for a concert and wound up doing a walking tour of Little Italy and Chinatown. It was awesome. Did it have to be the hottest day of the year?
Shinyribs, aka, Kevin Russell, was born in Texas and has been determined his whole life to make it as a musician. When his parents offered to pay for college, he asked for a check. He didn't get it but it's a testament to all of them that they've remained friends. As a parent, I admire that. They played the Mercury Lounge in LES, NYC this week. Shinyribs put on a great show and everybody had fun. The only thing missing in this song are his back up ladies- who add great vocals. I enjoyed this black and white vid of Who Built the Moon. Shinyribs, the tour.
Are you rearranging your furniture too right now? GREAT time to stock up on bright new pillows for the holidays. Ten smashing designs in- stock, the covers you can order direct from me. Shown here is Palma. What's not to love??