Blue can be a challenging color to work with. Take morning glories, specifically midnight blue. I'm crazy about them, and yet their particular blue color is so intense, it can be hard to integrate with other colors.
Blue has been a popular color for clothing and dyes since antiquity. In the Renaissance, the pigment ultramarine blue was the most expensive of all pigments and in the middle ages, cobalt blue was used in stain glass for cathedrals. The Chinese used it to make blue and white porcelain. Traditionally, it's been associated as the most masculine color after black, and, in public opinion polls in both the US and Europe, blue has been chosen as the most popular color, chosen by half of all men and women as their favorite color. I love blue, but it's not my favorite. And then there's the matter of morning glories in the garden. Each year, I start morning glory seeds and usually put them down in my garden on the road. In exchange, they've offered me countless beautiful images. And yet. This year as I ripped out leftover vines, from years past I discovered that the beautiful midnight blue variety I planted in past years, has become an invasive in my garden. Where will I put them this year?
Some people identify colors with certain moods, or how they make you feel. Color psychology has been espoused by many in terms of the colors we surround ourselves with.
Here's a contemporary take on blue for home décor. While I don't entirely subscribe to the idea, you might find it interesting to look how others have used blue in their homes.
This song by Billie Holiday (a talented jazz performer who grew up in Baltimore) is a classic that ties the color blue to romance. Blue Moon. Billie Holiday was largely self taught and never even read music. However, she performed with Count Basie in 1937 and the following year became one of the very first black women to work with a white orchestra.
Paola Pillow, Ancienne is a crowd pleaser- I'm sure you'll agree that her color is enhanced with a blue hue that's a wonderful addition to her shades of green.  The 100% cotton is delightfully comfy when you've washed it a couple times.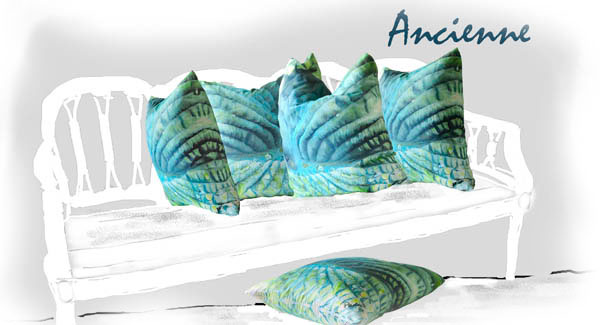 You can buy Ancienne  and others here.