Well sort of. We've now installed bamboo both outside and inside the house. We love the look of it and how it works with the landscape. Outside bamboo requires the maintenance of wood but is probably a little easier than re-finishing wooden decks, for example. Our bamboo flooring is harder and is lasting better then hardwood.
Very soon after we bought our house we realized the neighbor's drive above us was a problem. In the evening, incoming headlights raked across that side of the house. Argh! Very soon, we were on a mission to take back that side of the property.
We found bamboo fencing online and I fell in love with the look -not having a clue what it really meant in terms of maintenance. It was perfect for our application and yes, I would do it again. It offers visual delight every time you look out the kitchen window, as it easily screens the undesirable drive behind it without being totally solid. It's also excellent when you can enjoy both sides as the front and back are equally attractive. Cali Bamboo sells the bamboo in rolls also provides specs for the wood framing. Great customer service too.
We put the fence up almost eight years ago. I re-seal it about every three years.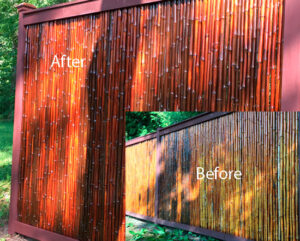 This week has been all about that… I'm almost halfway done. This year was the big one. Spray bleach and scrubbing on both sides to clean any mildew and then painting on a pretty scary dark "oak" coating to seal it up. The product is called TWP 300 series and it really does its job protecting very dry bamboo from cold New England winters. It's not only resistant to mildew but has awesome UV and water protection. It's way more user- friendly then the last time I did it.
We enlisted bamboo a second time for our floors. When we bought the house, the flooring was a typical mixture of hard wood, linoleum and carpeting. The hardwood was badly stained and since a primary goal of the renovation was to create an open living space, it made sense to consider a single flooring material throughout contiguous rooms. Light-colored bamboo enhanced the openness and more- its extra hard surface has been virtually scar, and maintenance free. Almost ten years later, I can't say enough about it.  Cali Bamboo is ultra-low VOC with no added urea formaldehyde, a combination of sustainability and durability that lasts a lifetime.
Did you know that growing bamboo sequesters CO2, and releases O2? Interesting article. A Cane the World Can Lean On.
There are two kinds of bamboo…be sure to get the non-invasive variety. It grows in clumping varieties that behave themselves or in running "timber" types that spread by rhizomes – not so good if they're planted as a property screen that escapes into the neighbor's yard.
You may also be familiar with bamboo fabric. Before buying it, it's a good idea to read the following article about its processing.
This past week, we took advantage of an outdoor jazz concert in the garden at Torrington Historic Society. Michael Sarin, (A jazz drummer like none other), performed with four fellow jazz musicians. I looked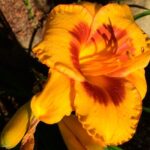 Michael up later. This song is true to his drumming style in concert. Very cool and different. "Summer in the Second Line Funk Back (Interlude) Sunny Side of the Street."
The hostas are working their summer garden magic. Have yours bloomed yet? I can't get enough of them. Did you know you can enjoy them year round on your couch as  Paola Pillows???
Save
Save
Save
Save
Save
Save
Save
Save
Save
Save
Save
Save
Save
Save