Joseph Louis Juste is a 20th century Haitian metal artist whose work would rightfully be called eclectic. After falling in love with this piece at a great place called Black Rock Galleries (several floors of eclectic home décor)… I was also thrilled to find his signature clearly stamped on it as it allowed me to see more of his work online.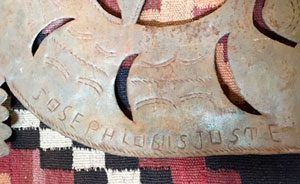 It's handmade using a recycled steel drum. Can you imagine using that medium for art? Challenging all around.
We have just the spot in the living room, which I'll share once we've figured out how to hang it. The piece is washed and ready to go up- all 70" x 40" of rusty steel.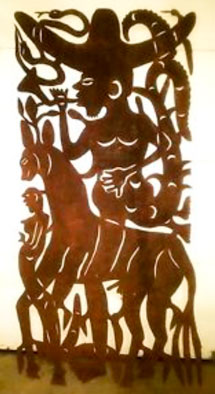 My husband and I love to wander into cluttered spaces and discover things for our home. You just never know what you might find. I don't think we're terribly unique getting taken in by unusual things. They add so much interest too- especially as they're unique and not at every Pottery Barn.
Scot Meacham Wood, formerly of Ralph Lauren, was quoted saying "In some ways, interior design is like baking. It takes precise measurements and very specific proportions for your results to be a success. In other ways, design is more like cooking. You can add a pinch of this or a dash of that, or even make last-minute substitutions based on the contents of your pantry or work without a written recipe and still get amazing results. There are some rules you can work with, but often you have to go with your gut!"
We always go with our gut. And, it's fun how often our guts go well together- as different as we are. When we did our house over, we found a jazzy old red paisley velvet couch in an antique store in Deep River CT. Much of what emerged in our new space flowed directly from the feeling and color of that couch. Sometimes, people get concerned that mixing patterns might get too busy. If you start with something you love, you can build from there. You'd be surprised how well different colors and patterns play together.
Each Paola Pillow is conceived in my Litchfield garden-a piece of natural history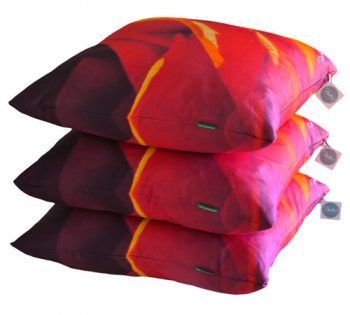 waiting for a good home. I grow the flowers and re-create them on computer to print to cotton sateen in a unique wrap around design. We have limited quantities of ten designs. You can see all of them here.
Sign up for our blog so you can stay in touch and keep up with new designs!
Incorporating classics into home décor can add wonderful nostalgia to your living space. I love this version of Beyond the Sea by Bobby Darrin. Watch the performance- even if you don't like the music, his style is pretty fun to watch. He loves doing it. Can you tell?
Save
Save
Save
Save
Save
Save
Save
Save
Save
Save
Save