Hens and Chicks (aka Houseleeks) eventually grow flower stalks that culminate in real flowers. This lovely image is truly not a first flower. But it could be- I haven't seen this much color outside in months! Yesterday, after the rain, I spied the plant hugging the frozen ground for dear life even as it turned up its face to sun- is it Spring yet???
Hens and Chicks are European in origin and one of more than 40 species of hybrid cultivars. I was unable to identify this one from its shape and coloration- in its first year returning after planting last fall. Apparently the colors change with the degree of sunlight. Guess we're getting more sunlight too! I'm always on the lookout for any succulent plant that's also a perennial. The concept of a perennial succulent flies in the face of cold New England winters. I admire that.
Hens and Chicks reproduce vegetatively by means of plantlets produced by the mother plant that take root on touching the ground. Once plantlets are established, the mother sends up a celebratory flower stalk and then…croaks. Interesting concept. More info about hens and chicks here.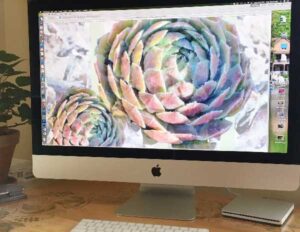 When my old IMAC died, it took some planning to identify its replacement. Once the new 27" IMAC arrived, it was with some trepidation that I migrated the contents from the old IMAC over from my ever- trusty Seagate backup. The new computer is clearly the right machine for working on art files that seem to grow larger unprovoked.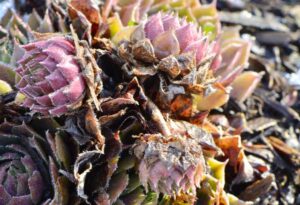 Hens and chicks are a classic form with a fascinating variable color that lends itself well to surface design.
I was able to incorporate its background by reducing noise and re-positioning the plant at different sizes. I lightened and created some transparency to better balance the whole. These designs can only be final proofed to fabric.
Waylon Jennings was an American singer/songwriter who began playing guitar at eight and performing on radio at 14. He had a tumultuous career, marked by drug and alcohol abuse but in the 1980's found success with Johnny Cash, Willie Nelson and Kris Kristofferson in a group called The Highwaymen. He died at age 65 from liver cancer. He was a hard- living person and the words to "I've Always Been Crazy" are fairly autobiographical. "I've always been crazy but it's kept me from going insane…Beautiful lady are you really sure you really want what you see? Be careful of something that's just what you want it to be." I love his voice in this version too.
Paola Pillows begin in the garden. As light plays across the surface, the colors display variable hues that never lose interest- any time of year. And especially in dull days of rain and cold- there's always respite. You can see all ten designs here. And in soft, feather down with all cotton, washable covers, it doesn't get much better!