What's that in the sky? It's a flower, no, it's a flower scarf!
This week I turned my attention to some new designs using the ever lovely tropical hibiscus.
We brought two plants home our last trip to Highpoint, NC. Most design work to-date has been applied to some adorable 18″ all cotton sateen pillows. This lush flower captured my fancy for scarf design.  As per usual, many options have to be worked through.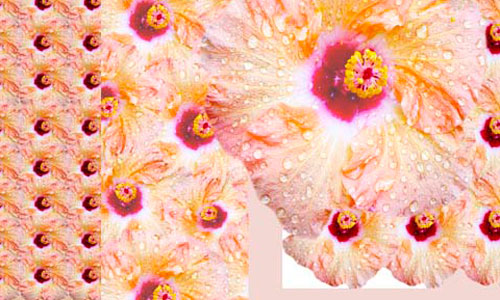 Scarf size, size of flowers, to border or not to border. More to be resolved in print testing and study of others solutions. But for now, I'm enjoying the quest.
The new garden work came to a standstill waiting for the metal edging but yesterday we started up again. So happy to see the beds take form. Formal gardens, shade gardens, historic European gardens. I'm glad for the winter to ponder the next very important step of what to plant! So much to consider. The search has begun.
Here are some sites you might enjoy too. Water features and more-  Here, in all its glory-none other then Rome's stupendous Tivoli Garden.
Fun and informative. The Secret History of (17th Century) British Gardens. 
Shade gardening. Broad leaves catch the sun and thrive. More pictures and tips about shade gardens.
The musician known as Prince, was a musical force of nature. Many remember the extraordinary efforts he put against big musical productions. Prince, the singer/songwriter was a unique powerhouse of creativity. I think this performance is a testament to that talent.