Yesterday, my husband insisted I rush out mid-afternoon and take some photos because he thought my favorite hosta had something more to offer this season. He was right.
We'd had a frost the night before and the leaves were dramatically altered from the sun's warmth. One leaf morphed into a shape I hadn't seen before. I always enjoy shooting plants late in the season because their personalities change so much.
Very few of the photos I take become pillow covers. Invariably, you shoot a million photos and you're lucky if one or two has a shot at becoming more. Part of the fun is downloading hundreds of photos to see what you really got. I knew as soon as I saw this shape in the camera that it had great potential. It had curled right over on itself like a sea creature of some kind… or an exotic carb.
My hybrid lilies had a terrible case of Asian lily ( lily leaf) beetles that decimated them. I plan to cut them waay back. Adult beetles over-winter in sheltered places in the soil or plant left-overs. Did you know lily leaf beetles can dig down up to ten inches to avoid the cold? Now there's a case to be made for clipping extra foliage and cleaning the soil around plants in the fall. I plan to be vigilant early in the spring to nip the emerging pests in the bud before they get mine again!  http://www.gardeners.com/how-to/lily-beetle/8090.html
Here are some additional fall garden tips. http://www.almanac.com/content/putting-garden-bed
Another cool thing about hostas in fall- you can actually see the leaves changing color on single large leaf- odd when you've grown accustomed to shades of green all summer.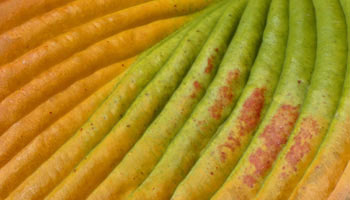 As thoughts turn to indoors and cold evenings – Norah Jones has a good idea-Help me make it through the night-
http://youtu.be/ocReUIHoI4s