For the paper wasps not so much. A happy ending to the growing season for the dahlia tubers- ready to come inside. That's one of their dahlias on the right.
I was amazed at the wasp nest. It hung very high overhead on a tree branch in the backyard getting bigger by the minute until one day the crows discovered it. They attacked it, tore it from the tree and devoured what they found. We were hiding inside the house (totally gleeful because they did such a good job, had a great meal, AND we didn't have to do it ourselves.) Is that a bad thing?
The dahlias are another story. Although I used to raise gladiolas, I grew to dislike all the effort put against one stalk per bulb- and they never came out as strong as they went in. The dahlias have already multiplied their first year in the ground. Let's see how they last the winter.
I bought my dahlias locally from Amanda at Something to Crow About Dahlias in Cornwall, CT. I'm a huge fan and when Amanda said to buy a bag of cedar shavings, I did it. She gives out a detailed grow sheet I haven't veered from yet- today was exactly two weeks since the frost, and I dug the bulbs out of the ground. They need to be washed and dried before they get bagged in plastic bags- in plenty of cedar to keep them apart. They'll go in the crawl space under the house addition so they can stay cool. Here's some more scoop on dahlia care- from Washington State: http://tinyurl.com/o4aqlpb   More here: http://tinyurl.com/74yhbuk
Got a photo in last week from a Paola Pillow owner ( Thanks, Pam!) If you don't see the pillow in our current line-up, it's because it isn't. It's coming up, Spring 2016 – a purple tulip biding its time.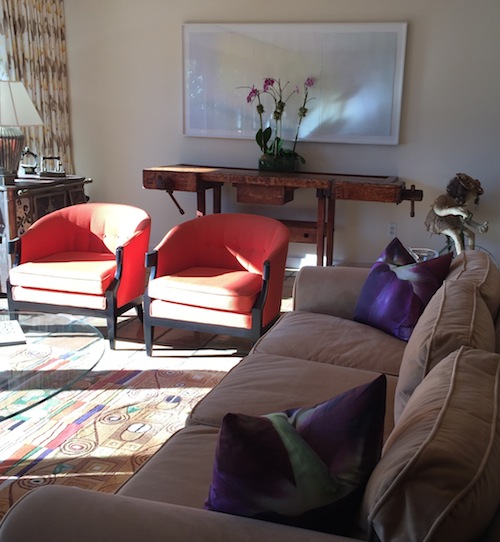 We currently have inventory on ten pillows.
End of summer, End of the Line– a great rendition from super group- The Traveling Wilburys.
Oh why not, another great one of theirs. Please enjoy the great Roy Orbison and friends in Handle With Care. I know I do.