I was thinking about St. Patrick's Day and the poem "Sea Fever" popped into my head: "I must go down to the sea again, to the lonely sea and the sky; and all I ask is a tall ship and a star to steer her by." John Masefield was actually an English poet, born in 1878, attended King's School and later trained as a merchant seaman. He deserted his ship in New York and worked in a carpet factory, returning home to write poetry about the sea. He was appointed British poet laureate in 1930.
Masefield's words resonate with me. The seashore is an amazing place. The omnipresence of big ocean is often a backdrop to murder mysteries of Northern Europe. It's not the sunny and "feel good" dash to beach that's more familiar to some of us. Often a solitary, and sometimes foreboding sense of place, it's bigger than one person's creature comforts.
The Northern California shoreline reminds me of the Northern European coast.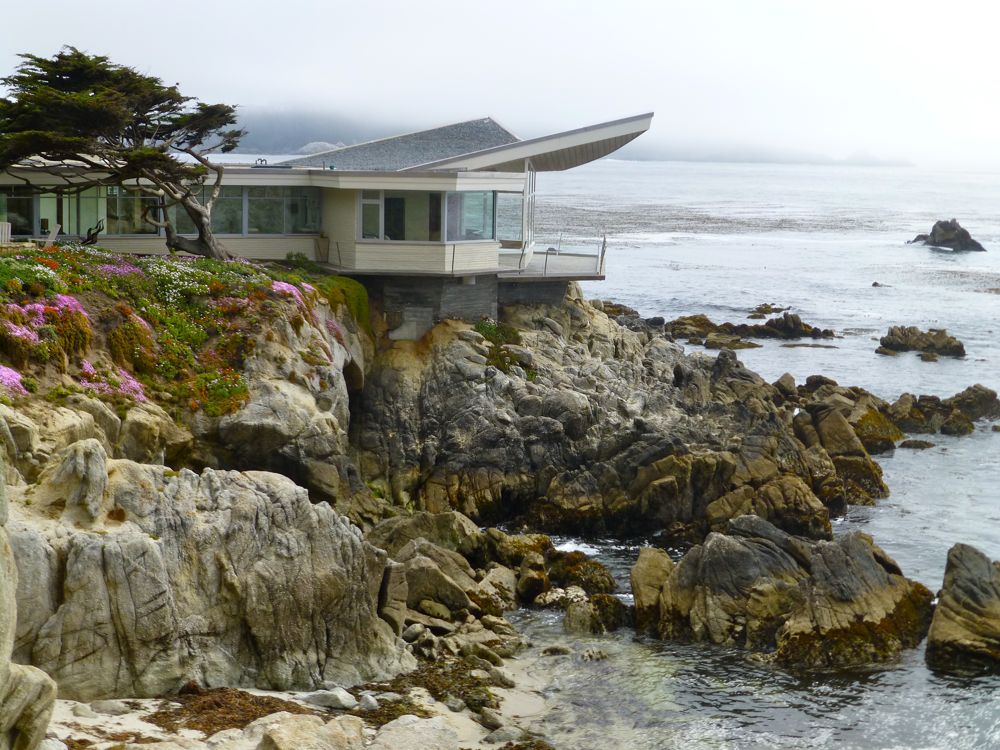 We saw this summer house when we drove the coast in late fall, near Carmel. Clearly a summer home- we passed by a couple times as we'd seen an oddly nefarious figure in the room overlooking the water. It was a cutout- intended to dissuade people from approaching the house!
When we created space for a formal garden outside the kitchen, we had to remove all running water from that area. The hill above our house was drifting slowly down with each passing year. Draining the remaining water away from the house was a goal we embraced by necessity.
Yet I still wonder. How might one re-introduce water into the garden? Moving the garden closer allows for more frequent watering. Which pairs well with a glass of wine in the late afternoon. Being near water of almost any kind has a primeval attraction. The look, the sound, the smells and colors. Know what I mean? Each plant seeks out its own water every day. I too, must go down to the sea again. Check out the big waves in the UK and Ireland.
When you finish your workday, consider the comfort of home and soft warmth of pillows under you head. Paola Pillows are waiting for you. Ten designs, all cotton, washable and softer with age.