My blog got way from me last night. I can't change that. I can tell you why I engaged Helen, "the face that launched a thousand ships" in this post. Ok, it's all about flowers per usual!
Right now, everything outdoors persists in coming up orange and yellow. It wasn't always so. For a few years my hybrid lilies took over this time with pink and white fuschia colors, not to mention their awesome heavenly scent.
So, this wonderful orange and yellow wildflower, also called Common Sneezeweed, carries another more glamorous name: Helenium. As in Helen of Troy.
Sneezeweed got its name from the historical use of their dried leaves in making snuff, inhaled to cause sneezing and rid the body of evil spirits. Call me if you need to sneeze, I have plenty. I adore sneezeweed because it has matching butterflies. (Along with bees and Japanese beetles in pairs).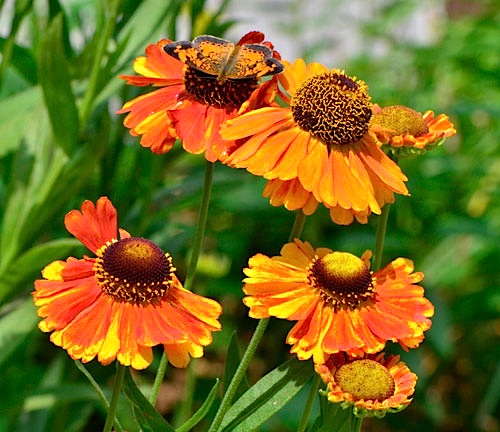 Helen of Troy, remember her from Greek mythology? An incredibly involved heritage swirling around gods, unspeakable beauty and war that lasted a decade. One story had her living happily ever after, the other-in widowhood being chased out of town by her stepsons and hanged by a queen in revenge for the death of her husband in the Trojan War. Sounds not too unlike the media in gyration over the political situation we've mired ourselves in.
I take pleasure even on the hottest of days in the beauty of the flowers around me. While I don't anticipate starting a war over her, Helen of Troy is eye candy much appreciated in the heat of July.
The color orange is a beautiful addition to home décor. Many shades, many opportunities to accent your space with something invigorating- when you don't have to be! Here's some ideas for you.
Then again, it's been horrifically hot this week. Unless watering thirsty plants outside, it's good to stay inside. OR, watching a video about the ocean. Another idea for a good time- Planet Ocean.
Rosa, a red and orange Paola Pillow guaranteed to cool your visit to the couch.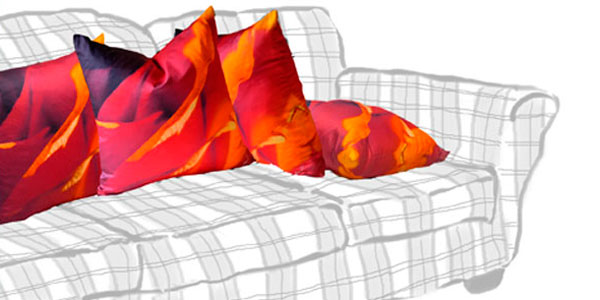 Related Images: