Fall is the time for learning new things. It has an anticipatory air about it. Some people go to school, others learn in different ways. I choose all ways! Including making time to improve outdoor furniture in preparation for the inevitable New England winter. And sometimes, you just have to get far away from yard work- it's still too blazing hot!
"Free Tours by Foot" is an awesome way to kill time waiting for a nighttime concert in New York City. My husband found the tour online and it was fabulous-albeit during a horrifically hot afternoon. We walked the lower east side of New York, including Soho, Little, Italy and Chinatown. The catch- the tour was FREE and our tour guide Jon, was the best. How do you NOT pay more than you might otherwise?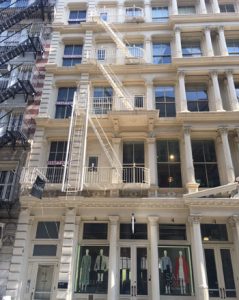 Who knew this was a brick building gussied up with a wrought iron façade, manufactured elsewhere and tacked on the front? After the Great Fire of 1835, wooden structures were outlawed and every building built in NYC had to have a fire escape.
Once Jon pointed out one wooden water tower on a building top, we noticed dozens.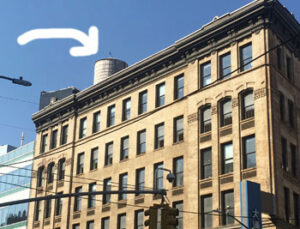 Wooden water towers, the remnants of a bygone era? Think again.
Fall is also the time for caterpillars to appear and munch your plants… on the way to butterfly life. I discovered an unusual caterpillar eating an azalea.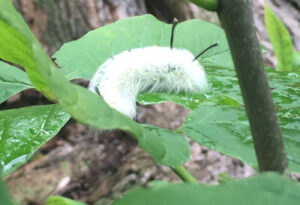 Happily, there was one and not more. I captured it to determine what it was. The Tussock Moth Caterpillar! Avoid skin contact as it can give you a rash. I always wear gloves – all I really needed to see was that it was eating my plant so I picked it up to learn more. While they don't usually kill the plant, if left to their bad behavior you may lose flowers for the next season. Natural predators are wasps and birds. You can also spray if you have an infestation. (Look for their eggs hatched on the underside of leaves) I use Safer Insect Spray. Just be sure your bush can tolerate it. What kind of caterpillars do you have?
Outdoor Teak!
We found some awesome teak chairs at a store in Great Barrington last week- in need of TLC. I looked up a slew of care options. There's something about this work that allows you to clear away previous owners and take possession of your purchase. Slowly, it becomes yours. My first takeaway is to approach the job with an assortment of formulas- starting with the least abrasive. My plan is to clean the chairs outside for now, where you can keep them wet and use product you don't want inside. Later, bring them into the basement for any structural work and/or sealant protection for next season. (I don't like the fact that this guy is sitting down comfortably while somebody else does the work- but he does have some good advice.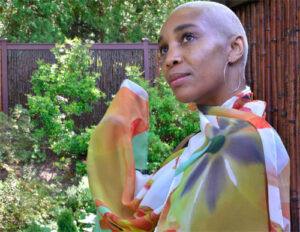 Love this model-my-daughter-in law, Tonya modeling our scarf, Dancing Tulips. There's ONE more left in stock. Notice the big flowers. Love them!
Our fab 18" cotton sateen pillows are in-stock.
This is Aquilina and Ancienne on an underwater couch…which I like to think about in the heat. You can buy covers separately from me direct. Contact me direct.
Chuck Berry
And, there's nothing as good as Chuck Berry and Johnny B. Goode in the heat of summer's end. Agree?