Words an artist never tires of hearing. I'd be a liar if I said otherwise. At the same time, we always know more than the observer making the comment. Some might call it schizophrenia.
I had to play in Photoshop tonight. I always appreciate the versatility and surprise in the outdoor garden – colors, light, juxtapositions-young and old,  always something new- or unexpected. And then, sometimes you add your own ingredients.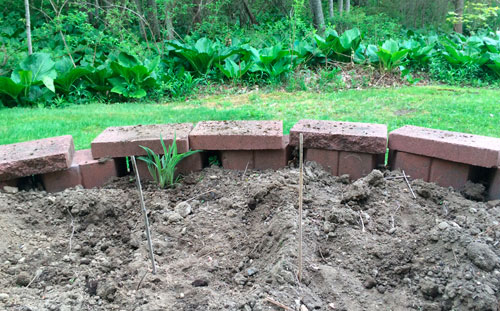 Today I planted some new dahlia tubers. Never did that before- they sure looked tiny. I followed Amanda's rules to the letter )Amanda is my most favorite local dahlia source- the Dahlia Maven equivalent to the Queen of England, only much more accessible.
My husband and I spent time last weekend looking for a pillow display. Something new, something unfinished, something old- and that's what snagged us. A metal and wood stand that had a "je ne sais quoi" look…about it. Ever look for something and all of a sudden there it is, and you had no idea it would look like that? Here's a peek- still have to get it, still have to figure out a workaround so the pillows stand up in it, but we think it's
just the right thing. Isn't  it great? Now, we just have to figure out where it goes and with WHOM. Much bigger questions.
At the end of the day, I try to remember it's the getting there, and getting there with a friend. Today, the news had a lot about BB King and his passing. Did you know he was a huge Sinatra fan? This is a good song about friends and getting along.
Save