I just returned from Washington, DC, having delivered my new design collection to Hines & Company at the Washington Design Center. Hines & Company now includes Paola Prints in its finest luxury home furnishings; accessories, fabrics, furniture, lighting, trims and wall coverings.
I especially enjoyed working with Kitty, Louise and Rick setting up the Paola displays. It's clear that personal attention to detail and home décor excellence are integral parts of the Hines shopping experience -well honed over two decades.
So, you may have visited this post before I completed it Saturday am. I overdid the trip and fell asleep while writing it- scheduling it for posting before finishing it. Damn. Sometimes I hate being human.
After we delivered the pillows, we raced across town to attend the Pope's Mass at Catholic University, my alma mater. A gorgeous day and wonderful experience. We stood in line for over three hours to get cleared. Even so, it was great- the quality  and diversity of people attending was impressive.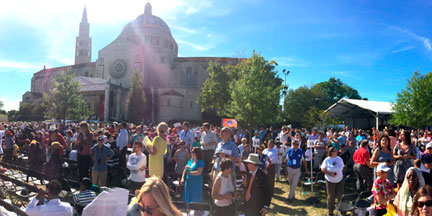 It's taken several years of hard work (and patience on the part of my husband and many others) to get traction in moving Paola Pillows to market. All of you who've been a part of that-thank you! Stay tuned as I intend to expand as fast as we're able. I'm not at all interested in short term gains at the expense of beauty and quality . That said, we're on the road searching out special new venues daily.
You may recognize the song, "Halleluiah"– it's been recorded by many. I chose its  author Leonard Cohen's version, because  it gets you closer to why he wrote it. It was written at a very low part in his life. He later said: "I wanted to push the Hallelujah deep into the secular world, into the ordinary world," he once said. "The Hallelujah, the David's Hallelujah, was still a religious song. So I wanted to indicate that Hallelujah can come out of things that have nothing to do with religion."*
My life experience tells me this is true. Religion isn't only for the pious, or the old- in fear of dying. It's made of all the daily stuff of life- people, nature, business and technology. Art, as I practice it, is the joining of all aspects of life together, as a celebration. This is Paola Pillows.