The hosta kingdom led me down the garden path… to making pillows. I fell in love. And so began a whole series of experiences from Nikon class to Photoshop class to travels in the southern U.S. in search of fabric printers and home décor insights. Whoa. Too much information? Not really. You can't imagine how much there is and how more you can learn. Everyday. So, if you're feeling bored, email me, we'll talk.
A hosta plant doesn't just choose itself from a million others, become a really cute selfie and go viral-after morphing into an artfully sewn soft, colorful, washable fabric over hypoallergenic down… I'm always curious about what people think manufacturing is about. I've learned and continue to learn daily. Something art school offered little insight about.
Designers taking a product to market become humbler in the face of an exacting and challenging process that demands change even as it gobbles cash.  There's a thrill though, in seeing the work of your mind realized in a new, repeatable way.
So, here we are in the beginning of hosta season. A simpler and kinder life in Litchfield CT. Every day, my plants grow bigger and stronger as I try to pick the right time of day to catch the sunlight from the most exciting perspective. So many hosta, so little time.
Last week, we visited SURTEX (THE surface design tradeshow) and ICFF at the Javits in NYC. So many new and different home décor creations. At SURTEX, hopeful artists and agency hopefuls plying their wares- designs to license or sell.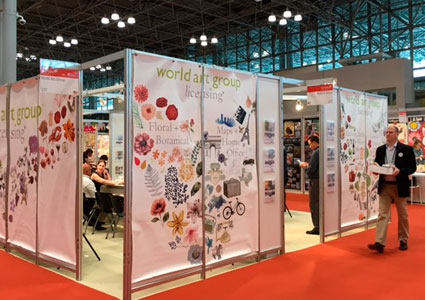 Trendsetters speaking to designers in search of the latest trends and colors.
Philadelphia University and international student and professional groups from Europe added an interesting progressive flavor. My fave- the PINK room achieved with strings of hanging plastics from Japan. Pink -And the ultimate recliner-
not your Dad's recliner anymore.
Went to dinner with my son and wife at Pio Pio on 10th Ave. THE BEST rotisserie chicken ever. Crazy noisy , so don't go expecting to talk. All in all, a stellar ending to a typical frantic and awesome pilgrimage to Javits.
A very full day. Crazy but worth it. Sounds like love- Crazy Love– Van Morrison and Bob Dylan
Hey! Paola Pillows will be on sale starting May 21- May 29th– All ten designs. Click on sale items from May 21- May 29. Over 20% off.