I'm in love with an invasive species. Spiraea japonica.
In fact, last fall, I transplanted some shoots in the hope of encouraging its spread in my yard. When you have a large area to cover, sometimes, you go for those plants that thrive. Managing their growth is not rocket science. You have to stay on top of it. No gardener is happy to have her garden space dominated by anybody. Until my dear Japanese spireas overwhelm their neighbors or lose their beautiful color, I'm all in. I found this site though that might be of help if you're questioning a particular plant, or to manage it over time.
Today, my spirea bushes are beginning to show some pretty leaf color-pink to red- which is always welcome this time of early spring. My largest bush has been growing happily over top of a large blue hosta plant. They go well together!
Right now, big plans underway for my daughter's Jack & Jill party-this Saturday!  No time to waste as I put the finishing touches on a set of three very large paper banners to decorate the party space, and many other things. Photos to come….
We can always use great music to chill by.
You may recognize the tune but what a rendition! I love everything about it- not the least is the clothes. Artie Shaw- Begin the Beguine, by Cole Porter.
Artie Shaw was an American musician, author and actor. He was widely regarded as "one of jazz's finest clarinetists" and led one the United States most popular big bands in the 1930s. AND, another even more upbeat version set to dancing!
I love red. Rosa is one of our most romantic Paola Pillows. What do you think?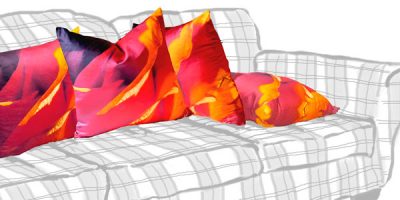 Save
Save
Save
Save
Save