The sun is absolutely golden this time of year. I went out late this afternoon to shoot around and realized I had some prep work to do (raking the beds) and was a little too late to capture the pretty light traveling through the leaves.
I took a few photos like the one above and raked some leaves to prepare for a morning shoot. If nothing else, pillow photography is teaching me about patience. You do what you can and then you WAIT. What a concept. I'll go back tomorrow morning to harvest some more images.
The leaf photo was shot from the actual plant that produced the original photo I used to create my pillow called Palma.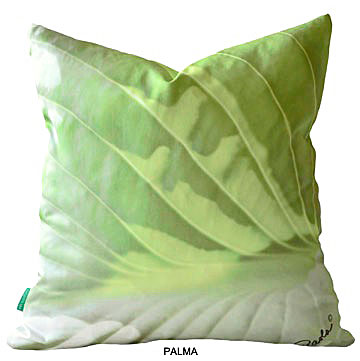 Palma is all about light- shining through the hosta leaves. I worked with the natural light to create an image I liked. Beautiful calm- one of those things that can be hard to come by.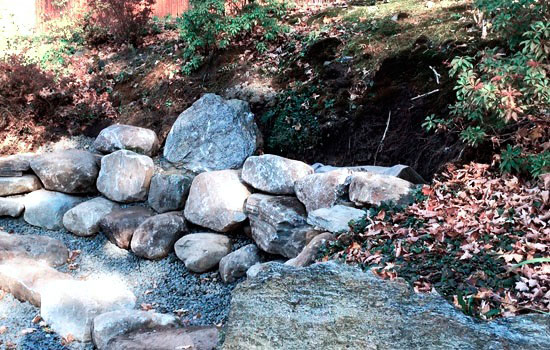 The hill outside the kitchen continues to improve daily. We picked a large stone from the back yard to incorporate into the hill. The large flat stone on the lower right we'd placed a few years ago. I wanted to make sure the new effort tied to it. Looking good. Tomorrow they're starting topsoil, so we can figure out where to relocate the plants before winter.
For those of you who haven't read my blog before, I pick a piece of music I want to share. Both my parents had music in their genes. We sang together almost every night after dinner. It's been a welcome part of life from childhood- even though none of my music lessons stuck. I think it was the fact that most music was classical and my tastes are quite varied- almost any genre performed well. Including the opera.
We haven't had a lot of rain in a while- thought I'd pick a song called "Rain." This week was the California Roots Union Fall Tour 2015. Maurice Tani, a San Francisco alt-country musician and his band 77 El Deora performing "Rain" – here with Jenn Courtney- interesting sound, sweet harmony. https://youtu.be/TP02gXx2S2I