Many say that we've become intolerant of people different from ourselves. You can see evidence that supports this. Living in places where we only hang out with people like us or putting our noses in a phone everywhere we go. Sometimes, we engage in a lot of inward turning – regardless of which side of the proverbial aisle we live on. The photo is a variation of a mobile my sister made from metal cans. It hangs in the garden under the Japanese maple. It inspires me about the changeability of light and its impact on the natural world. Metal and greens-a juxtaposition of opposites. Open your eyes. Look around. There's a world waiting.
As an artist, I think the best gift I received as a child was the insistence that we spend lots of time outdoors. Outside, I felt immersed in a world washing over me-ultimately the experience of being only a blip on the screen of life. It was a good feeling. Like this… Monet's Pond in Seki City, Japan.
One takeaway for me was learning that in nature, almost anything goes –it's a world waiting to be discovered. You're inevitably presented with all manner of things over and against one another. Similar, different, big and small, loud or retiring.
I used to make wall hangings exclusively from recycled fabrics. One very successful jacket design  began by my cruising a fabric store, collecting every color and kind of material that I "felt" belonged together.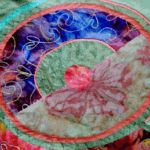 The design emerged from a somewhat haphazard confluence of colors and fabrics. It then became a composition, a community of diverse elements hanging together. That is the role of any creator. Diversity and a willingness to be there- sometimes in a certain amount of chaos.
We go regularly to New York for home décor shows held at the Javits Center. Installed in 2013, the roof is almost seven acres, making it the 2nd largest such roof in the US. It absorbs rainwater and insulates the building- reducing heating and cooling costs.
Check out this live cam of the Javits roof. I will forever think differently about time spent indoors at Javits. You can register for free tours of the roof during the summer months!
Diversity is a given in the music world. Remember Joni Mitchell? Presented by Mama Cass on her show in 1969. Both Sides Now. And…Mama Cass in 1967-Dream a Little Dream of Me   Such different ladies, both great talents.
I'm working with hostas at present on some new surface designs.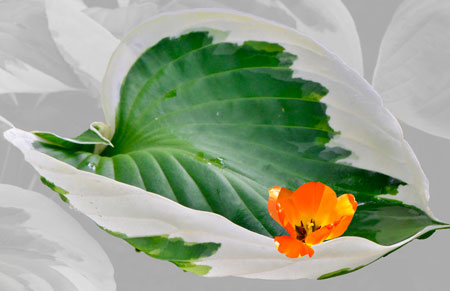 The hosta's regular, yet dramatic lines offer great potential for background imagery.  You can see and buy our current pillow designs here.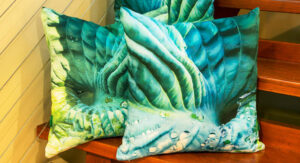 Save
Save
Save
Save
Save
Save
Save
Save
Save
Save
Save
Save
Save
Save
Save
Save
Save
Save
Save
Save
Save
Save