We bought this chair for Paola's High Point Market booth– because every pillow needs a stunning mahogany chair. It's a Victorian slipper chair we found online and bought in Gibsonville, NC-The City of Roses.The chair was returned to CT via freight-which caused some damage to the wood. Of course, I jumped right into sanding and patching –thinking I had some inexpensive veneer…but many, many hours later our solid mahogany is even better then before. What a process. I have new respect for those who work in hard wood. A beautiful and forgiving medium.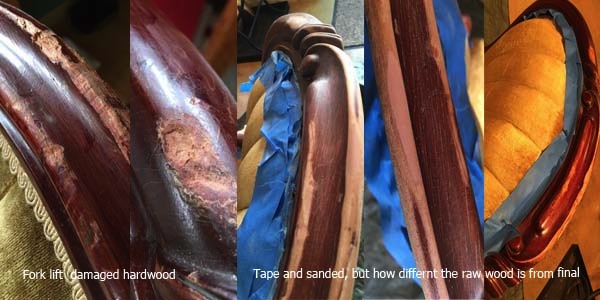 When you maximize the photo you can see forklift -induced cracking and scratches. Vigorous sanding revealed dramatic color differences. I can't believe I sanded the whole chair…!
The second photo shows a smooth yet mottled improvement on the left.  after patching in and sanding the faux wood fill. Followed by colored markers and a pre-stain treatment to even color, and a deep mahogany stain.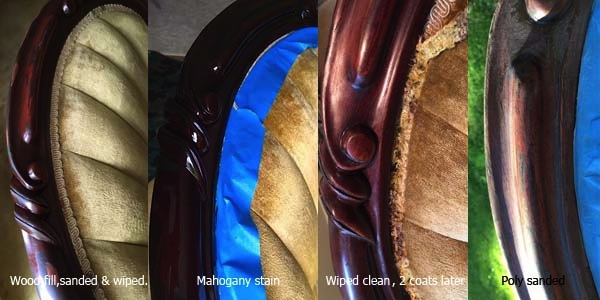 A process repeated three times followed by a careful rub. It's working! Color and surface smoothness come together. Even though I liked the look of the wood, after all the work, polyurethane was necessary to protect it.  But wait, we still needed a minimum of three layers of poly! See the last image on the right. The wood got cloudy again..!
That's where I almost lost it. Why couldn't I have just left it with one coat?? As I learned, when you sand polyurethane, it turns white- even with the FINEST grit sandpaper. (I started with 220) The extra layers improve the patina, and lessen the shine. I went with satin finish as it looked even smoother.
I waited till the very end to remove the gimp- having allowed it to soak in all manner of crap as I labored.  The crusty old gimp had been applied years ago with hot glue and was bound to the fabric like iron.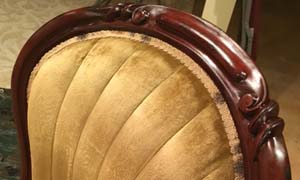 I got out my trusty razor and slowly tugged and slashed all the old stuff off my almost new chair. An upholstery re-do was a mountain I couldn't climb- so after getting the gimp off, I re-stapled the fabric into the hardwood to make sure it was secure. Then, I carefully applied the gimp-which was probably the easiest part of the job. Maybe next year, an upholstery job??? You never know.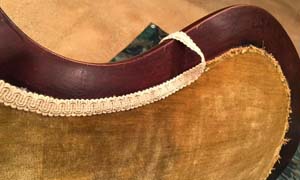 Rosa and other Paola Pillows can be found online. Subscribe to our blog and stay in touch weekly. New products, new pillows- in the works- coming soon!
Time for a break to enjoy the chair…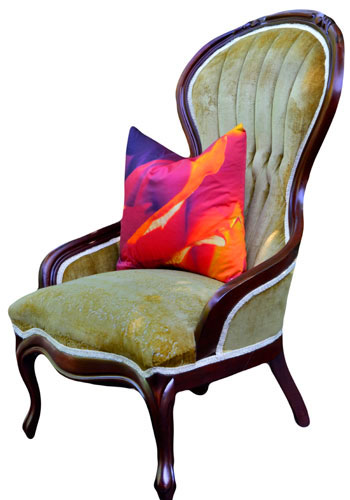 Amos Lee. At last, a musician who was not a prodigy at four. Born in Philadelphia, Amos, graduated from the University of SC with an English major. This live performance of Vaporize is interesting to watch. Amos is a natural performer- he  delivers the blues with the air of a romance.