I was messaging with my son about his quest for a new couch. We independently landed on mid-century modern as the style to shoot for. Why is that? (Aside from the fact that we both have impeccable taste rooted in American history.)
This is not the first time I've drooled over Mid-Century and I apologize for any redundancy. However, what goes around comes around and it can be very comforting to come around to this style. Especially when you're living in New England, where we enjoy a (wonderful) preponderance of colonial history. One often finds herself searching out modern home décor items.
Mid-Century is roughly considered mid-30s to mid-60s. Germany is thought of as the style's country of origin (think Bauhaus) and stereotypes frequently assigned to Germans go with it. Clean, spare and uncomplicated. Something everybody can like – a style easy to accessorize or soften to suit. One Mid-Century concept is that of "bringing the outside in," which includes open spaces and big glass. The function of things is also important- before style. Form follows after function. Both are essential for most of us.
This  photo is an awesome example of a groovy 1960's Hollywood Hills ranch. My next and forever home- with a few color and décor modifications. Its owner, Rose McGowan needs money for legal fees against somebody who's made a lot of news lately. Her house utilizes an enclosed outdoor space in back that's forever Mid-Century. The only thing missing is what every Hollywood home should have, a giant outdoor TV screen.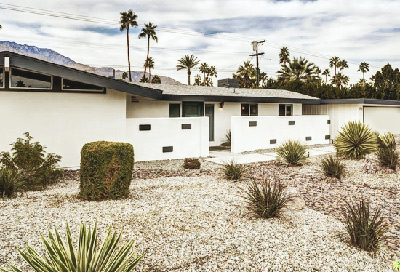 Many Mid-Century homes often included a privacy wall made of concrete in front of the house. Meiselman (Jack and his brother Bernie) homes, circa 1950's construction, are known for installing unique concrete walls abutting modest-sized homes- often finished with an in-ground pool in the backyard. I want to live here too!!!
After we created an open floor plan in our home we realized that one has to manage sunlight with a lot of glass- probably something California dwellers don't need to be reminded about. We'd also installed an open wire stairway at the back of the house to keep a view into the back yard -another Mid-Century trait. We soon discovered that an awning was essential to reduce summer glare and heat.
If you're fond of Mid-Century, Atomic Ranch is a great publication to watch. A peek inside the current issue- Mid-Century properties.
More about the history and features of Meiselman homes. Open, practical, and including many important features people look for today in a home remodel. Modernism Week is just around the corner February 15-25. If you're a Mid-Century fan ready for a winter break…Buy your ticket and visit a smashing event in sunny Palm Springs! More here.
Life marches on and it's great fun to blend old and new together in life. I heard about Leigh Beamer from a friend of mine. Love her voice and her fresh face- so much room to grow. I still miss someone.
And, consider Johnny Cash- same song, different time in his career. Fabulous version for his well honed talent. Both singers, wonderful but different altogether. I still miss someone.
Don't miss out on Paola Roses- SPECIAL pricing for this Valentine's Day. If you buy three rose pillows from me direct, I'll knock 50% off . This is a limited offer. Only until February 14th.
Related Images: