Fall is here and winter not far behind. Most of the leaves are down, the ground and light  are changing for winter. Thoughts turn indoors. Consider your living space inside as the holiday season moves into focus.
What do you do if the inherited furniture you always wanted doesn't really fit with your own décor? I tend to be a purist, meaning I generally don't like to make style changes to a historical piece. So what do you do when you want to integrate something for sentimental reasons but can't quite figure out to fit it in? It could be the look or its function.  Modifying the piece to compliment your personal decor might just be the ticket. Here's some ideas. Check this article out. http://tinyurl.com/o9qlwqv
A word of caution. Don't expect that the renovation of old furniture will be of insignificant cost. It will probably cost more to update it than to buy something new. Make sure you really love it and have a special purpose for it.
Speaking about history. Paola Pillows are back from South Carolina. Here's a post by my friend Interior Decorator, Amy Emery from our pillow tour in Greenville SC- the end of October. http://tinyurl.com/no2
Here's a golden oldie I love- sung by Rita Coolidge and Kris Kristofferson: Help me make it through the night.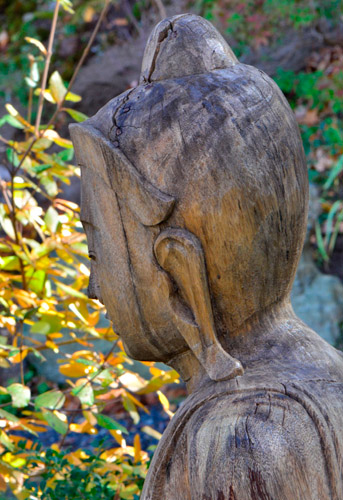 Our serenity statue will be making the pilgrimage from the side garden to his winter home in our barn very soon. Right now, he's watching over the yard renovation.