Someone recently asked me how I'd ever come up with the idea of making Paola pillows- specifically applying flower photos to cloth. It seemed a funny question but then I thought about it. I never wondered why, because it happened slowly over time- it's the evolution of images, experiences and materials that have been part of my life for many years. I think it's called aging.
To look at it, it's really not much of a stretch to see fabric in a tulip like this pink one. Tulips soften after cutting and become much more fabric-like. (I was never that crazy about the rigid orange or yellow cup shape that first comes to mind.)
We grew up sewing doll clothes, our own clothes and then our kids clothes. (As long as they'd let me). So, fabric has always been in my life. Try as I might, in college and after, I could never put enough paint on a canvas to get the fabric effect.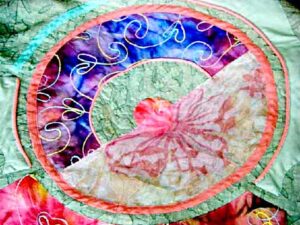 I think I liked slathering on gesso before painting because the thick, smooth texture reminded me of cloth. Soon I migrated my design work to fabric applique. This was one piece from a jacket I made-which began with a double layer of cut green Indian cotton.
In photography, texture brings something important to a design. Light works with texture to create interest you just don't get otherwise. The purple tulip was an "end of the day" photo that became very dramatic in its orange glass vase.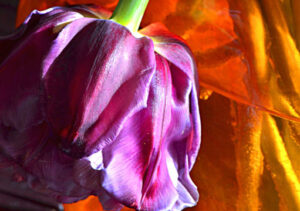 Here is the same photo printed to fabric. The orange turned to a deep maroon. I like both- the pillow hue works well with many different colors. Not at all what I expected though.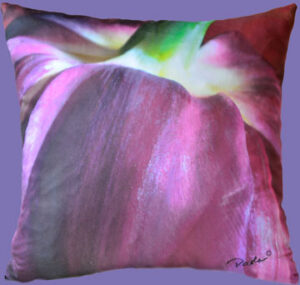 Back to season appropriate conversation. Eva Cassidy was a singer/songwriter who died long before her time. She had tremendous talent- hope you enjoy her as much as I do. This is Autumn Leaves. http://youtu.be/xXBNlApwh0c
Our Japanese maple just lost her leaves, but not before they turned brilliant red- beautiful. Soon, the snow will come to New England. Hope you're ready, because I'm not quite.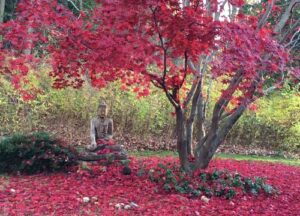 Paola Pillows are coming soon. If you haven't signed up yet, you can today! Or risk missing first dibs. These will be limited quantities of select designs. https://paolaprints.com/subscribe/