Amy Emery, a dynamic Interior Designer from South Carolina, agreed to share some tips on choosing paint colors. Can you relate to this?  I can. Amy says: "Selecting paint colors always sends people into a state of panic." No kidding.
My husband and I undertook a huge home remodel after maybe two years of marriage. It was really important to get to harmony on color from the beginning. Our interior designer was a great sounding board and helped us walk through a process that worked.
Amy suggests that paint is NOT the place to start in any case, and it makes sense. "One good reason is that paint colors are limitless. Items with the most options should be the last." Consider beginning the color process with a rug or inspiration fabric.
This stumped me. Until I remembered the very ornate antique red couch we'd bought early in the home decor journey. We loved the color and the feeling it had. It became a rallying point for how we wanted our house to be. We learned that as we both like intense colors, we had to simplify wall colors down to a soft Philadelphia Cream that permitted the incorporation of intense showstoppers like the couch. Our color choices included a solid red wall that reappears in several rooms. The floor is blond bamboo throughout except for the bedrooms and bath tile. The red wall in the guest bath became red glass tile.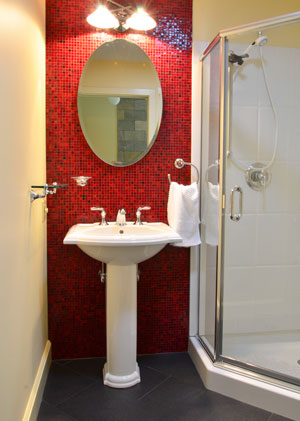 Amy recommends that clients take a trip to Houzz or Pinterest to begin the color conversation. "Likes/dislikes. Choices made here can lend suggestions about where other colors will go. And always remember: What looks good on a small chip will amplify when put on a wall. Think of bright color as your most intense friend- better in small doses. Or if you really crave color drama, try it in smaller areas like a powder room or study. Use bold color selectively– walls, art, pillows. (Notice Rosa, Paola's bold red pillow in the first photo) There isn't so much as right or wrong color as the "feel" of the room you're going for. Light and airy or dark and dramatic? Paint is very subjective- so try to figure out what you want the room to feel like before even thinking of color."
I enjoyed Amy's use of trim color in a living area.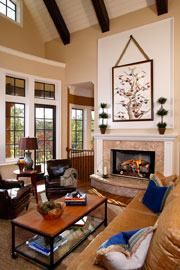 "Trim colors offer variety. Stained trim by itself will make a space more casual. Staining the windows dark –and painting the casing around them a light color is very interesting. If you have a great view you're trying to capture, it helps to make the trim blend in more than stand out. And, no matter which direction you choose for color, ALWAYS, ALWAYS, buy tester samples and test in a large area on several walls. Look at the color throughout the day. Your lighting, reflections from outside and even furniture and finishes you have inside can change the way a color looks."
I love this old song. James Taylor and Carly Simon singing "Close Your Eyes"- A beautiful duet of voices. Harmony, we can strive for in our lives as well as in our color selections. http://youtu.be/E_D0i7UC9UY
Read more about Amy Emery