The sunflower on this pillow is actually a baby sunflower. I started it from seed inside, until the plant was strong enough to stand up to the elements. Weaklings at birth, sunflowers grow into amazing, strong sun worshippers.
I climbed a 6' ladder to take the photo- often at challenging angles because sunflowers like to face the sun.
You can see the pillows look greener than the two flower photos.
At first, the immature flower is tightly closed and very green. As it matures and grudgingly pops petals open, the petals begin to bask in the sun, turning progressively more yellow orange. It's a wonder to behold. I can't think of a more apt name than sunflower.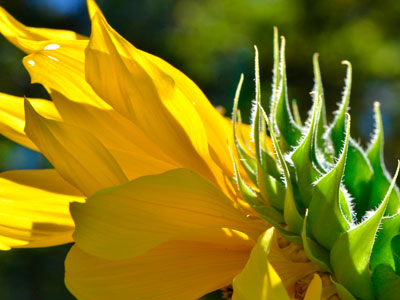 You can see the yellow color differences between the two pillows in the last photo with Sunbaby and its adult sibling, Sunny behind it.
Yellow has never been my most favorite color. Its hues can be challenging to integrate. What I've noticed about Sunbaby is that people like to pick it up and squeeze it -the fate of many chubby babies I guess. There's something very tactile about how its petals curl-opening just a little bit. A tease of more to come.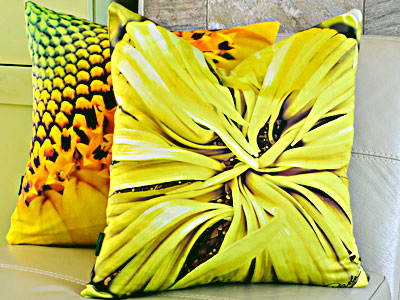 "With you" by Singer-model- actress Sophie Auster is a tender love song that reminded me of the early life of flowers.
http://youtu.be/CcabOnHdqqc
Happy Easter!
Stay tuned for spring arrivals. Subscribe and we'll keep you posted about Paola Pillows.