The Hoh Rainforest, located in the Hoh River Valley in Olympia National Park, Washington State, is a treasure any gardener would drool over. In some sense, my year-old formal garden is a radically different environment. It will be years before our plants offer real cover for migrating wildlife. Thus far, we host a modest collection of bumblebees, butterflies and the occasional hummingbird. It's a work in progress.Part of my interest in planting our new garden was to create an outdoor refuge, which requires some form of enclosure, such as you'd find in formal gardens-high evergreen hedges,
stone walls with metal gates. You get the idea.
Trudging through the Hoh Rainforest, there's a sense that time effortlessly creates its own enclosure – protected from commercial exploitation and unimpeded by self-centered human demands often imposed on the natural world. Gardens gift us with an unhurried sense of "peace in place" that can be difficult to find elsewhere.
In addition to the garden, I take comfort in the creation of visual art, camera in hand, capturing shifting light and colors. The Clark Institute is opening their exhibition called The Impressionist Line starting this Sunday Nov.5- Jan.7 entitled From Degas to Toulouse Lautrec. The Impressionists represent the sunny side of contemplation, a shared vision of quiet artistry in paints of light and color.
By definition, a temperate rain forest has 12' of rain per year and an overhead canopy of no less than 70%. The Hoh forest was wringing wet- its giant spruce and hemlock trees, 30- 60 feet around and hundreds of feet tall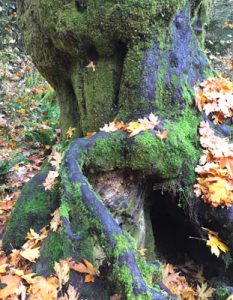 were draped in luxurious green coats of moss. Long ago toppled pine logs ( aka "nurse logs") have become a soft, velvet growing medium for new plants- their shapes a memory of their life as trees. We gardeners work so hard to enrich soil to fortify our plants. I'm convinced that in the rain forest, time creates life. No artificial irrigation, no cultivating, no pest control by humans is required.
We saw virtually no wildlife save infrequent little black beetles, although I read that the adorable ruffled leaf lettuce is a favorite of an invisible resident-the Roosevelt Elk. The trees found in a temperate rainforest don't require fire to generate new life. The giant dead trunks and steady water supply incubate endless life forms from saplings to extravagant epiphytes.
Paola Pillows are made from photos taken in my gardens in Northwest Connecticut. Bring some home and you can enjoy the garden year round. Aquilina.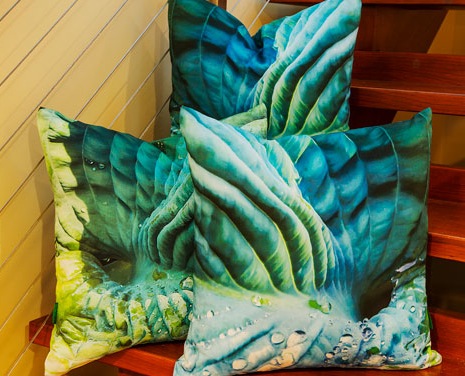 Gorillaz is a virtual English alternative rock band created in 1998 by musician Damon Albarn and comic book artist Jamie Hewlet. The only permanent contributor is Albarn. Their 2001 debut album Gorillaz sold over seven million copies. Theirs is a fluid universe that changes members, instruments, even genres. This song seems like the antithesis of the rainforest. Every Planet We Reach is Dead.
Although the phrase " getting hard to see the sun coming through" is also true under an extensive forest canopy. Not always negative. What might does it mean? It's been said: "there's a Charles Bukowski quote that's goes something like…'If you're losing your soul and you know it, then you've still got a soul left to lose.' You can… hear the line, 'I lost my way, what am I going to do?' The rainforest may just have answers for you too.