It's getting hot in between rainstorms in Connecticut. I went out to weed today and the drops started again. We're sprouting a lot of incredibly healthy weeds. Summertime is also the time for cool and roses-when you can find them.
A visitor recently shared a photo of a Paola's Classic pillow that lives in his Nevada home. Matching green sneakers are cute but not required. I like seeing my pillows in all kinds of décor. People might think Paola needs a white couch or an ultra modern design sensibility. Not true. They're at home anywhere you are. We'll be selling in NYC in the coming weeks to see who the big favorites are. You can see the line here. Tell us yours!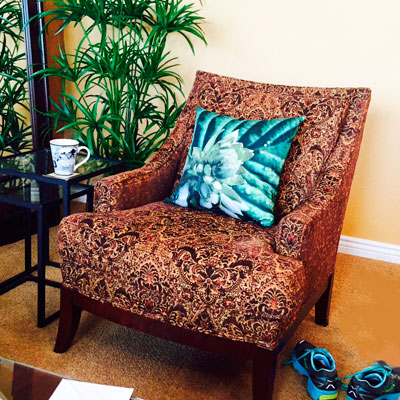 We're always looking for new flower venues. Continuing with the west coast theme… consider Golden Gate Park in the San Francisco area. Its Botanical Garden is the largest of its kind on the West Coast. One outstanding feature is the Conservatory of Flowers with its surprisingly exotic blooms. It's the oldest remaining municipal wooden conservatory in the United States. Visit the Park Aquarium. Events, sports- literally, something for everyone- including segue tours on over 1000 acres. http://www.golden-gate-park.com/
Muggsy Spanier and his Dixieland Band are having way too much fun in this excerpt from a 1960s studio performance – Notice the slide trombone on the right- totally into it. Joe Sullivan on piano. All great performers.
The music reminds me of brass in summertime marching bands. My favorite part in a parade is when the horns come up in unison and start to play. There's great interview with Muggsy after the song about his playing style. https://youtu.be/6WHZRxgLWAY