Each year, my husband travels to the SEMA Show in Las Vegas to prospect research clients. Every so often, Larry, (and incredibly low airfares) seduce me into hitting the road with him. There was a cold rain falling as we lifted off from Bradley Airport in Hartford and I was grateful for the promise of warm desert weather.
It's 2 AM, Friday and we're flying home via Nevada-Denver-Hartford after a week in Sin City. We were shamelessly spoiled by our hosts. As Larry left early each morning for the conference center with his brother, I snagged his better half, gallivanting through as much of the landscape as possible.
We took a quick tour of the very stylish retro Ethel M Chocolates and Cactus Garden. Ethel married into the Mars chocolate company and spearheaded a designer side of Mars that's quite delicious.
There's little this artist enjoys more than soaking in the visuals of unfamiliar surroundings. From an arid irrigated desert landscape to the frenetic crush of people on the Strip after dark.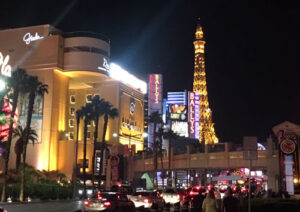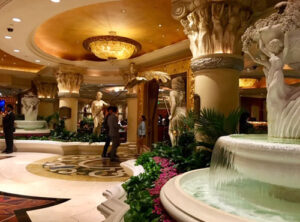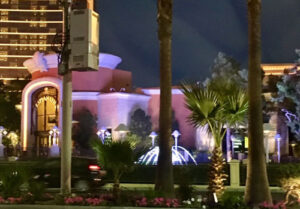 The lighting and opulent surroundings light up the city all night every night, drawing people like moths to a flame. It's striking to experience verdant landscaping wrapping around endless developments and shopping areas in the middle of what was originally an uninhabitable desert. If you do visit Henderson, Nevada don't forget The Springs Preserve, a gorgeous outdoor sanctuary of beautiful plantings on meandering paths through the woods. It has a great gift shop and luncheon restaurant too.
Las Vegas natural habitats did not disappoint. Sloan Canyon National Conservation Area, has over 48,00 acres of desert, a violent volcanic past and is one of the premier rock drawing sites.
Sloan Canyon, has over 48,00 acres of desert, a violent volcanic past and is one of the premier ancient rock drawing sites. Its artwork dates back to the Archaic (6000 BC to 500 BC) period in Southern Nevada. The reservation offers evidence in the form of Native American drawings (petroglyphs) that the area was at one time inhabited by people with access to local water not yet piped in from the Hoover Dam.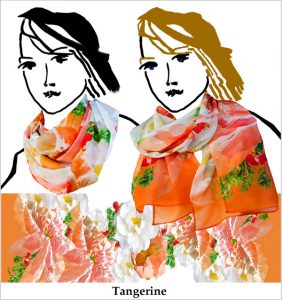 Paola Scarves are a gorgeous, unique gift you don't want to miss. See all fourteen designs here. Order a truly special floral design sewn to order BEFORE November 16 for holiday delivery.
Ingrid Michaelson
Life can seem quite complex at times, especially when talking about ancient history, deserts and modern gambling obsessions. Ingrid Michaelson is half Swedish, has two artist parents – a musician/composer and sculptor. She began playing piano at four and studied until seven at Manhattan's Third Street Music School. Her music is simple and straightforward. As her song suggests, two people together can accomplish a lot and have fun doing it! You and I