Impressive statues of the four seasons watch over the formal parterre known as the Latham Garden, to the side of the Tryon Palace. Tryon Palace was the first permanent home of the North Carolina governor in colonial times. ("Palace" was just another word for the governor's home). Originally built in 1767, the palace burned to the ground soon after the capital was moved to Raleigh. The building was reconstructed in the 1950s and today has tours and period re-creations by costumed staff. It  gets rented out for weddings. The weather was beautiful and I decided to focus on the gardens on the palace property.
Spring had already arrived in New Bern – en route to our home in Connecticut from High Point Market, North Carolina. We stayed over a couple days to regroup.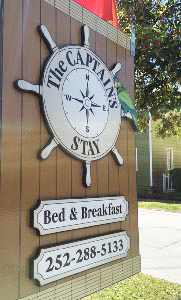 My husband had worked his magic and found a B&B called The Captain's Stay. Our hosts Craig and Denise were awesome, kind people. If you're looking for a place to call home (away from home), GREAT hot bfast by Craig with a fresh fruit plate for starters. Not to be missed.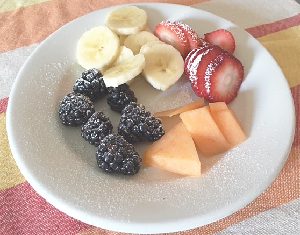 What's more important? Good sleeping, a town that still has the quiet of a small village- a collection of shops- and steeped in American history. A recipe for escape.
New Bern was founded in 1710 by Swiss and German immigrants (It's named after Bern, Switzerland's capital). As North Carolina's  capital, New Bern became a wealthy layover, with many beautiful old homes,  formal gardens surrounded by high brick walls –and churches dating back to the early eighteenth century.
I walked several gardens – all designed by Morley Jeffries Williams, a young landscape architect who specialized in using archeological evidence to recreate period gardens. His work was previously visited upon Mount Vernon and Stratford Hall in Virginia. His gardens, although inspired by 18th century estates are more styled after the Colonial Revival gardens popular in the mid 20th century. These were done at the time of the palace reconstruction in the 1950s. Large color displays changing through the seasons. Year round interest is maintained through neatly groomed symmetrical evergreen hedges or parterres.
We stopped for lunch after leaving New Bern in a ghost town called Rocky Mount. We stumbled upon one of the best barbecue places we've been, a comfortable, chic place called The Prime Smokehouse Barbecue & Beyond- gotta get back for homemade dessert. We were just that stuffed. Go there!
Even better. The restaurant belongs to the son of a great tenor sax man, Ed Wiley Jr. Turns out that  Ed  Wiley had very special culinary skills in addition to music. Close your eyes, listen to the music, and smell the ribs slow cooking. Doesn't get much better. Till There Was You.
Unless you're holding a soft Paola  Pillow close. Woodland. Yes.
Related Images: