I'm heading to watch a show with my husband and try not to stay up too late!
For the New Year, I'd like to leave you with a quote from Eartha Kitt: "I am learning all the time. The tombstone will be my diploma." Doesn't that feel like just another day in paradise? Learn new things always, and always choose to be with the ones you love.
Talk with you in the New Year..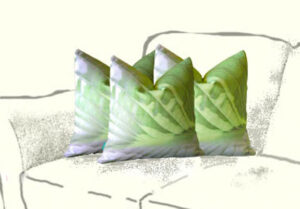 And yes, Paola are pillows available for sale…always on Etsy as PaolaStudio.
An Eartha Kitt classic- Santa Baby. You know you've at least earned that sable and the light blue convertible she sings about.  Eartha Kitt was an actress, activist and singer. Orson Wells once called her the most exciting woman in the world. In the early 1950's Eartha had six US top hits. Her less celebrated anti-war comments at a White House luncheon threw a monkey wrench in her acting career for a spell but she came back on Broadway and Disney movie voice-overs for a strong career finish.
Save
Save
Save
Save
Save
Save
Save