When a cactus gives up its first flower, you dress up the occasion. Paola Prints new Creamsicle scarf seemed just the ticket. The cactus survivor is an Eastern prickly pear Indian fig. The red center suggests a variety called "Devil's Tongue"-native to some parts of eastern North America. Like Connecticut.
The Devil's Tongue was given to me last fall-and was so lackluster that by spring I quickly abandoned it to the out- of -doors to sink or swim. (I've later learned that its behavior was consistent with others like it in wintertime).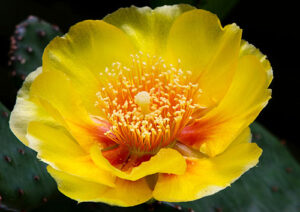 I had brought mine inside and set it in a sunny window. Some say it can be left outside. This summer the cactus has had such dramatic growth in leaves and flower that I plan to keep it inside this fall. I'll wait and see how it does this year before I consider leaving it outside. I just can't do it yet.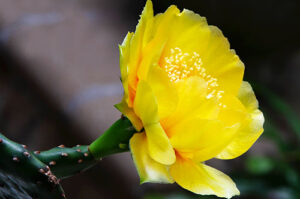 Those of us who garden have a very strong nurturing gene. Caring for cacti was initially a real challenge because of that. Cacti are different characters who pretty much take care of themselves if parked in sunshine with the right soil. And, they truly do go through a marked rest period in winter. Once you get the routine down it's a lot less work too. Propagation is also easy. Read more here from The Cactus and Succulent Society of San Jose.
I'm thinking of creating a cactus scarf design. There's something about the juxtaposition of prickly pear cactus and filmy soft chiffon. I'm still far from finished with the expanded scarf page photos. When my son came to town, I captured his good will and got him to dig some holes for the new lilies.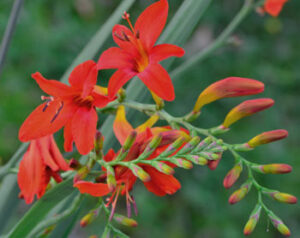 The yellow and orange ones choking the garden will be moved next to the new ones in a tidy row outside the garden gate and serve as a driveway border. I can't wait to clear the azaleas inside the garden and give them room to grow too. Nina Simone has a beautiful song called The Other Woman that's a great melancholy tune for an end- of -summer song. What do you think?
Paola Pillows make great gifts. Pillows or covers. You can see all the designs here and order either on Amazon or from me direct (covers are only available direct). Ask me a question about scarves or pillows. Sign up for my blog and keep up to date weekly on new designs!