Meet the new Paola Pillow – Woodland. I thought the Chesterfield leather couch a worthy backdrop to a pillow with lots of personality. Recently, someone told me he thought my pillow designs were too "girly" and would I consider a hunting motif? The short answer was "no".
Woodland is my response -a unique pillow of earthen colors. It emerged from some photos I took of an older hosta leaf just after the plant endured a killing frost that puckered and dramatically changed its appearance.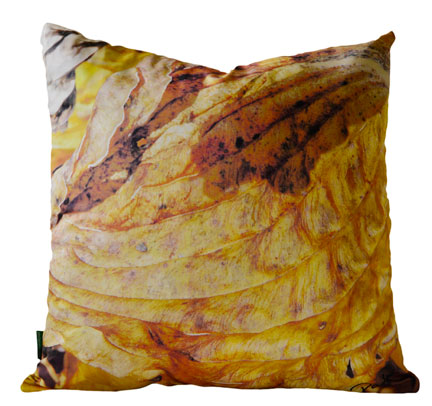 Paola Pillows are always printed on heavy cotton sateen because it offers photos the most detail and clarity. I can deliver through surface design an image that packs a whole lot of textural intrigue with a smoothness you'll still want to sit close to. In the end, it's perhaps more gender neutral. Certain guys may feel more comfortable reclining against the "manly" brown palette of colors than some of the roses.
I grew up in a very musical family- with classical performance artists on both sides. While I fell in love with Italian opera, I truly enjoy almost any music that's well played. The juxtaposition of incongruities has always been central to my artwork. Putting things together that might never have been done before!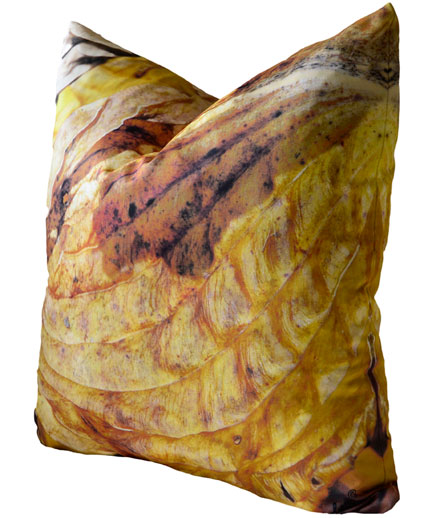 The following is a really unusual collection of musicians and sound. Yo Yo Ma is a French -born Chinese American cellist and child prodigy – who graduated from Julliard and Harvard. He's received 18 Grammy Awards and has been described as omnivorous due to the versatility of his music. Here he performs a song from the The Goat Rodeo Sessions with a haunting female vocalist Aoife O'Donovan, Edgar Meyer on bass and Chris Thile, an American virtuoso mandolinist. http://youtu.be/unknkdq_DVE Intriguing, like Woodland.
Related Images: