Sometimes, I like to mix things up a little to share interesting ideas. I met Amy Emery, an Interior Decorator from Greenville SC last year and recently asked her to share some practical decorating tips. She offered up accents and patterned papers- sounds like a plan. So, grab a pillow, a glass of wine, kick back and…
Reconsidering Wallcoverings
I've been designing interiors for 15 years and most of those interiors have been coated with some shade of Sherwin Williams or Benjamin Moore. Not to hate on paint- it creates the mood for every room and is easily altered when the mood changes. But I'm so excited to see wallcovering being used more and more. It's a great way to add bold pattern and unexpected whimsy to a room. Not feeling too brave? There are lots of ways to experiment or start small.
1. Wallpaper an accent wall- A bed wall or focal point wall, like a foyer or the back of built-ins,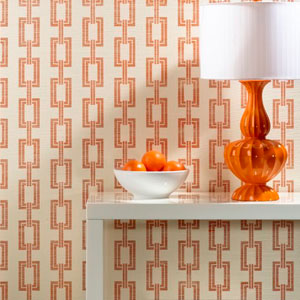 is a great way to add a pop of pattern without having to go for the gusto on the whole room (or the whole expense).
2. Cover a bathroom- Bathrooms are my favorite place to do something bold. It is a small space that doesn't need to be made to feel large; it's only for a temporary visit after all.
3. Try texture instead of pattern- Can't decide on a pattern or afraid of getting tired of something too graphic? Textured wallcovering is timeless and adds subtle elegance to a space. Try some of the newer printed or embossed patterned grass cloths and linens for a little more "oomph".
4. Use temporary paper -Not totally sold? There are great options that are temporary- think "Contact" paper. Here's one brand I found at market that has great patterns: http://www.tempaperdesigns.com/
 Visit my Houzz page (http://www.houzz.com/pro/amy-emery/amy-emery-interior-design) For a little inspiration- I created a Wallcovering Ideabook showing examples of these ideas: http://www.houzz.com/ideabooks/47242418/thumbs/wallcoverings-ideas
Paola again- We're doing a Mid-Century Modern thing today, so I felt I should pick up on some period music.  Besides, there's nothing like the cool west coast jazz sound of Wes Montgomery and four men jammin on their saxophones. https://youtu.be/F0sipEKhIhc
If you like the green chair I used to feature one of my favorite summer pillows, Sunbaby– find more info here-classy goods! http://bit.ly/1aZGywD