Our Indonesian door was not intended for wintering over in New England. So, each fall we unlock it and haul it into the barn. Today, we had a good friend over for dinner who helped us install it for Summer 2015. I just love it. I can see it out the kitchen window and it makes me feel good –like an old friend.
When we bought the door, it needed work as the gold paint was largely gone and parts of the surface were worn. I gave it a few coats of sealer after touching up the paint. My husband was sad that even though it turned its great face to meet guests, we were left with a plain grey backside. I reluctantly agreed to give it a sky scene of its own, but I like it! What do you think?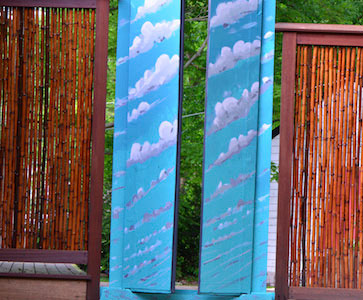 *
Been working hard cleaning the emerging spring gardens, picked up some new dahlia tubers, yea! I'm pretty sure that next post, two of the new pillows will be ready for a photo session. Stay tuned.
And speaking of tunes-Pride & Joy is a great old one by Marvin Gay. http://youtu.be/WczljwhNGHI
*(Did you see the nonsense copy in the first paragraph? I fell asleep writing last night and caught it this morning when it posted. Did you see the hidden Paola pillow- Raspberry Hosta in the main photo in this post?) Its colors were a perfect match to the door and landscape, I couldn't resist)