The holidays are in the air. Do you feel it yet? The skies are grey, the days shorter, the temperatures cooling. It's always an adjustment, but one we'll make in any case. We have no choice in the changing of the seasons!
Connecticut had its first snowstorm last week. That's OK. We had a "just-in-time" moment with the boxwoods and that worked out perfectly. I covered them, it snowed.
Last week, I finished with scarf orders, this week I've started cutting and sewing. It's a good feeling to be able to dig in again.
I delivered a pillow this week. I can't think of a better home for Perfect. We'll be doing a holiday fair locally on November 28th. Scarves and pillows. I had to order and sew some scarves to have on hand, not something I usually do. Proximity to Christmas makes it tricky. You need inventory up front as mail starts to slow. Always a challenge. I have never liked the idea of inventory. I enjoy making things for people. Good news. Even though we've passed over the ordering deadline for scarves, we have a few in stock.. in case you come up gift short. Reach out and I'll let you know what's in.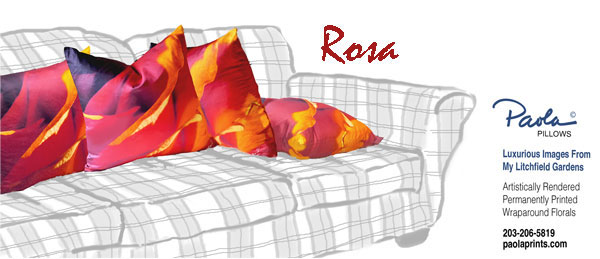 Subscribe to get notice of new products on order.
I'm crazy about Van Morrison. He's one of those enduring talents who has stayed with his own musical process and continuously delivered. This is a BBC recording I found the other day that tickled my fancy. It was performed in an historic 18th century Anglican church in London. The performance was part of the prestigious BBC Four Sessions in 2008.
Ironically, the song is entitled I'm NOT Feeling it Anymore. What strikes me is its collaborative aspect. The star is the director and of course, the man with the "Van Voice." More than anything though, the song embodies what's most important in the holidays. Being in a warm environment and with those you love or have a passion for- as in a great musical performance. We have all have different things that turn us on, prioritize. It'll make you happier then "stuff."