It's hard to believe we were away from home for two weeks in search of pillow sales at High Point Market, NC. It's great to be back  in Litchfield, which means a welcome return to the gardens.
Paola Pillows started in the garden. I've missed that time. I'm sure people garden for all different reasons. The escape into quiet beauty is right up there. At the same time, isn't it also about indulging in the work of your hands? The pleasure of just putting your hands and body into it. Less so your mind. The actions of gardening bring comfort. I suppose it's akin to exercise – balancing the machinations of everyday mental activities.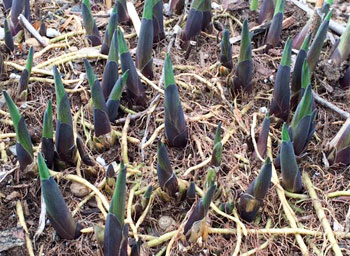 So, these are some the hosta spears emerging now as they claw their way across the ground, their roots struggling  for purchase. This hosta lives on top of a stand of mature maple trees that long ago took most of the soil for themselves. Each year, I add a little more soil. It looks painful, doesn't it? More soil needed!
And then, my inspiration for today's image- the azaleas are coming!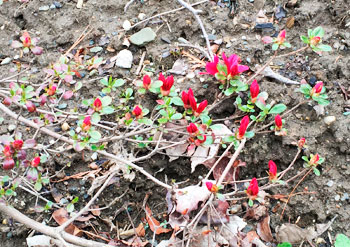 I haven't seen a lot of buds- Several of the bushes are showing signs of burn damage on top and fewer buds then usual. Got to watch for fungus I guess. We replanted some bushes late last fall so I'm giving those plants a break from bloom expectations.
Last fall we broke ground in the side yard which due to heavy shade and poor drainage has always held water – can't even support a lawn. We're planning to turn it into an enclosed gardens with gravel walks. Starting to  plan it.
Of course, woke up today with a stiff neck. During those two weeks south, I indulged in a complete lack of the  usual exercise regimen. It's great to be home and back to a daily routine.
End of April and daffodil blooms mean the lily leaf beetles are emerging from the ground. I quickly put two to death yesterday. I blogged on this last year and in the end I have pretty much allowed the hybrid lilies ( their favorite food) to die out. The best way to purge yourself of lily leaf beetles is to be alert to them in the ground near your new lily shoots and kill them right away. If you're hoping for healthy plants, check them every couple days because those little red punk beetles emerge constantly from wintering underground. Here's where I was with them last year. Didn't do too good with the Captain Jack product. Nothing works as well as just killing them with your hands and quickly before they eat the leaves. You see leaf damage, you have them-just find them.
Onto pillows. Paola Prints was just juried into a Paradise City festival! Northampton, MA- October 8, 9 & 10, 2016. Our first NE retail show- will we see you there? We'll be headed there to see another show, at the end of May- Memorial Day weekend, to check it out. Sounds like a fun time.
I was looking for an upbeat, Spring song. Instead, I found Adele- Someone Like You. One of Adele's gifts is that she offers space in time- to look inward and reflect on what's truly important rather then all that's constantly rushing ahead to the next "must do."
Related Images: