It won't be long before plants will be poking their heads up through the crumbly leftovers of the Winter of 2015. It's always good to get outside, and clean away the debris. We just got home from our trip south and I can begin to see ground where the snow is starting to melt. Are we done with that yet?
I've never actually seen a hosta pillow growing in my garden-although tiny new hosta leaves will emerge somewhere around the end of April in CT and I expect to take many more fabulous photos of them. This was a photo from last May.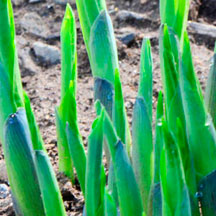 In very early Spring- around the end of March – my thoughts turn to other plants and a disastrous garden experience with red lily leaf beetles last year. I lost almost all my hybrid lilies to a leaf and bud- munching scourge like I've never seen. This year I've declared war on beetles- and I plan to win.
The first time I saw the red beetle, I thought- oh, pretty color, not nearly as awful looking as those fat Japanese beetles- (who also eat hybrid lilies). WRONG.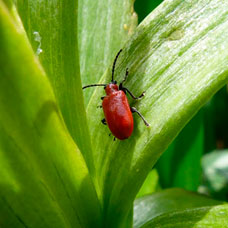 Red lily leaf beetles are relatively new to New England and have virtually no known enemies. (Except angry humans) It really comes down to how fast you can find them and eradicate them before they destroy your lilies. If uncontrolled, they WILL completely defoliate and ultimately kill all true lilies; including the Asiatic, Oriental, Easter, Tiger and Turk's Cap lilies.
Adult lily leaf beetles winter over underground-They're out there right now, waiting for you to miss them. Start scouting for them in late March/early April. They'll emerge looking for food and a mate about the same time daffodils come out- so after raking away debris, check every day for evidence of these nefarious beetles.
I've identified an all-purpose insecticide called Captain Jack's Deadbug Brew. It contains Spinosad, a naturally occurring soil-dwelling bacterium that was originally collected on a Caribbean island from an abandoned rum distillery in 1982. (No lie). Spinosad controls many pests, but has low environmental impact because once dry it only kills insects that ingest it. It doesn't harm predatory beneficial insects, mites or spiders. Spray in late evening, night or early morning when bees aren't active. As soon as you spot beetles or larvae, spray heavily to soak them. Repeat the application every few days covering all surfaces. Hand-picking adults, eggs and larvae is an effective means of reducing damage. Wear tight-fitting rubber gloves and go after them. Make this a daily routine throughout the summer months to maintain control.
A second option I've read about is Neem oil. Similar application routine- early and heavy. Neem is a broad spectrum botanical insecticide that kills beetle larvae by suffocation and repels adults. It's most effective early in the season and on young larvae. An oil, it can be more harmful to bees and other beneficial insects so I'm starting with Captain Jack first. I'll keep you posted.
When I'm not designing pillows or going after red lily beetles, I'm looking for great music. Do you remember Dire Straits? A British rock band and one of the world's most commercially successful- Mark Knopfler wrote and sang one of my favorites: "Sultans of Swing" https://youtu.be/BX0Bhga_2vs
If you haven't read enough about beetles you can read more here:http://www.gardeners.com/how-to/lily-beetle/8090.html
And don't forget to subscribe to our blog so we can keep you posted on the race to end lily leaf beetles and….the latest Paola Pillows-https://paolaprints.com/subscribe/