Just want to take a moment to remind you that for many artists (I'm no exception, the passion for art begins in nature and reflective time spent outside at the service of plant care. Obviously, the morning glories and roses aren't out yet, but isn't it great to have flowers with us all year on home décor fabrics and papers?
Spring is SLOWLY coming into Litchfield Connecticut- still a little too cold to continue raking out the garden and picking up pine cones. So…I took a day trip north with a friend to pick up a piece of metal garden art that had proved too large to put in our car last week in Sheffield, MA.  (Thank you Dorothy!) We were constrained to make a few other garden -related stops from seeds to terracotta to..whatever. We learned that Monday is NOT a good day for seeing antiques – so many stores are closed in that neck of the woods, this time of year.
Sunflowers are returning to West Chestnut Hill this year, I had to pick up some seeds and starter cups.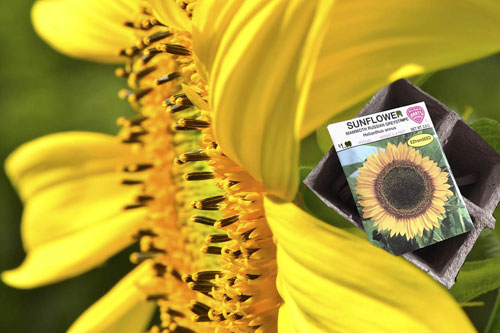 I took a break last year from planting sunflower seeds but they're such stunners to shoot I had to plant them again. I start them indoors to give them time to toughen up.
Rhiannon Giddens is an American Musician, native of North Carolina, graduate of North Carolina School of Science and Mathematics, and 2000 graduate of Oberlin Institute where she studied opera. Rhiannon also plays violin and banjo. She's an incredibly driven and talented musician, founding member of the Carolina Chocolate Drops, an old-time string band and has won awards for her work in shining a light on historic musical traditions including bluegrass and country. Here singing a great old Patsy Cline special – I've Got Your Picture– at the Grand Ole Opry2-Rhiannon Giddens. More about Rhiannon here.
You can see and shop all ten Paola Pillow designs here. If you're in town, don't forget to come visit us at Paola Pillows' booth in Greenwich at the Bruce Museum Craft Festival May 19 and 20.