It's my birthday today! I had to explain to someone today how Paola Pillows have their origins in fine art. My dilemma was how to infuse fine art training into home décor products. A garden inside the home- art made practical- and voila! Paola was born. To celebrate today, I placed Paola Pillows artfully in a photo of the field at Campo de' Fiori -with other outdoor sculptures. (The only difference being that Paola Pillows are not outdoor pillows at all-considering how soft, all cotton, down and feathers they are. Paola Pillows live inside with other treasured art you can enjoy all year. I could never bring myself to create beautiful things from stiff outdoor synthetic fabric and polyfill.)
We visited Campo de' Fiori the other day on a drive out to the Great Barrington area. It's the best garden store ever. The plants are lush, object d'artes abound. Lots of terra cotta, interesting metal and wood too. Go there if you want some interesting finds to updo your outdoor spaces.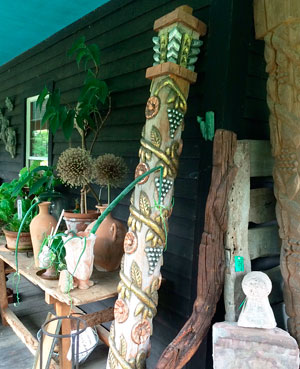 This was the year I was going to dig into doing over the side yard but as expected I've had no time, and then, neither has the excavator! Until he figures how we can reclaim the wet soil, it's a waste of time pretending I'm in charge of an area dominated by weeds that think they own the place. The one good thing is that the white swamp azalea I planted there is really growing and blooming better each year.
The lace cap hydrangeas I rescued from the swamp and moved out into better sun have tripled in size and are a threat to any lily that thinks its going to hold its own in their midst. I love the speckled pink on their flowers that always remind me of an impressionist painting.
Darius Rucker, originally of Hootie and The Blowfish, is a doll with a beautiful voice. He always reminds me of my son Daniel, who I'm pretty sure is a huge fan. I enjoyed one reviewer's comment saying the band became an overnight success in 1994 when their debut album "Cracked Rear View" garnered over 16 million copies. What people don't know is that it came after a decade of hard work. I totally think that's USUALLY true in life. I just wish more people would realize it and not feel bad or discouraged that good things really do take time. Darius said he's going to reconnect with the band but is currently making quite a name for himself as a solo artist. I still love this old song from 2009. http://youtu.be/1aVHLL5egRY