I just finished stitching up the latest new version of a jacket bought years ago from online retailer Orvis. I loved the jacket so much I bought two of them! Did you ever have a piece of clothing you wore everywhere, wishing you didn't have to let it go? You don't! Favorite clothing can live forever.
My original jacket was finally giving out. (Of course I washed it so it was also wonderfully soft but over time, less sturdy.) The material was threadbare in some places and had holes in the pockets. Such unique material however, how was I going to update it? In this case, I decided to blend. Similar color, sturdy fabric, but a new look. I had just washed some cotton prints, leftover samples from my original, all cotton Paola pillow collection. There's something about incorporating older fabric into a new construction that brings a personal story forward. What do you think? I love the results!
A couple years ago, I attended a talk on textiles at Cooper Hewitt in NYC. My favorite was a lecture on Boro, a class of patchwork textiles that grew out of necessity in Japan. Today, Boro has a whole new life associated with the original concept, you can read more about its origins here.
Fabric reuse is not that different from what happens in a fall garden.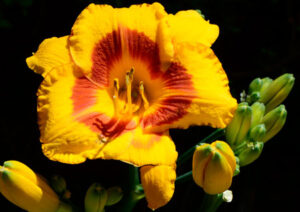 I don't mind the leaves so much as they fall and land onto soil that integrates them into new plant life in spring. They all come around again. Day lilies are always fascinating to me, opening one day and dying at the end of day. I pluck the flower the next morning, letting it fall to the ground where it gets buried and becomes part of the next season.
Did you know that nothing biodegrades in a landfill, because nothing is supposed to? And yet, the bioplastic market is growing 20-30% annually. Yikes. Maybe we need to learn more. You can read more about PLA here.
Scarves and pillows are for gift giving this year! Designed and made only in America. The images come from my garden. Don't delay! Scarves are made to order so you need to place an order by Nov. 16 to get them made and delivered for Christmas. Pillows and pillow covers are in-stock. You can order covers from me direct. Got a question?
The other night, we had my Mom to dinner and she was reminiscing about playing piano in her brother's dance band in high school at Cuba Lake in upstate New York. She admitted that her mother didn't know she went, and that her brother wasn't all that great on sax. Ha! The things you learn after a meal together. One song she remembered was this one. Begin the Beguine. Arthur Jacob Arshawsky, aka Artie Shaw is regarded as one of jazz's finest clarinets and his band was one of the most popular big bands in the late 1930s. He bought his first sax working in a grocery store, mastered it by age 13. At 16, he switched to clarinet and hit the road to tour. Artie was from a Jewish immigrant family and the son of a dressmaker and photographer. (He has a special place in the heart of this fabric lover) Artie's parents were from Russia and Austria. He hired Buddy Rich and signed Billie Holiday as his first vocalist in 1938. Artie was challenging to be with and was married eight times, two to actresses, Lana Turner and Ava Gardner. He was a precision marksman (fourth in the country in 1962) and fly fisherman, also known to take "sabbaticals" from music to study advanced math. I love this song and the big band sound. Horns are always wonderful. Begin the Beguine, performed by Artie Shaw and His Orchestra.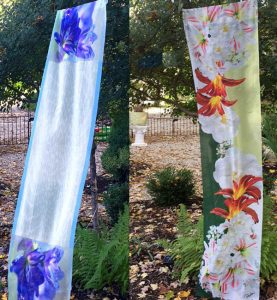 Two new scarves: Holiday and Watercolor.