We have a large hill in need of erosion protection. When we first moved into our house, patches of ground were partially covered with pachysandra- and wherever it appeared, it was the dominant ground cover.
In typical fashion, I decided I wanted periwinkle instead as I prefer their blue flowers and green leaves. Even after many years gardening I keep doing that. Sometimes I lose. You can't always get what you want and regardless, you have to put the time and effort in to see if it will take.
I was out weeding yesterday, and as I ripped out weeds and pachy, I was struck by the numerous varieties of green things huddling with the pachysandra and strangling the periwinkle. Since our property is perpetually damp, moss is a big star. Each clump of pachysandra has lots of moss, grass, and other plants that hang out together in clumps. As I weed, I'm endlessly untangling moss from the periwinkle. Here's a little about how moss works from Bachman's Garden Care.
What's the ecosystem on your land? Here are some habitats you might find interesting.
In any case, I've staked my preference for blue flowered periwinkle and for the foreseeable future I'll need to shepherd its growth. It's a little too retiring.  This year after weeding I'm adding both topsoil and mulch where ever possible to help depress the interlopers and give my preferred plants priority space for growing.
Apparently I'm not the only one who struggles with pachysandra. This statement caught my eye the other day " Ground covers have come to be unfairly typified by a few lackluster varieties, such as pachy­sandra." No kidding. It's so darn healthy though. Every so often, I consider that, and each time I do, I keep pulling out the pachy. Looking for alternative ground covers?
Check out this site. You can search out ground covers good for your planting zone. As always, the challenge is to work within the light and soil perimeters that you're presented with. Success will follow.
I also love golden carpet, or gold moss.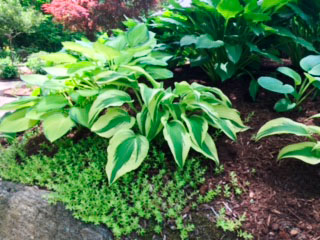 It appears in another spot where I get a little more sun. It's a hardy crawler I like to encourage. Dave's Garden is helpful in searching for specific plants and info about them.
Another type of ground cover I enjoy is a scented one like…Thyme! It's pretty too. Some day once my current ground covers are set. Weeding for me is quiet time when I can let my mind wander in directions not too regimented by things I have to do. Daydreaming is a luxury that also feeds motivation for new ideas, or new directions. As an artist this is a critical exercise for pursuing new solutions or new applications.
Dolly Parton and Don Henley of The Eagles fame, sang this song in 2015 for Don Henley's album called Cass County. What great voices! Dolly was 69, and Don Henley was 67. Clearly, they haven't stopped exercising their creativity. When I Stop Dreaming. I also enjoyed this interview with Don Henley after his band mate Glenn passed.
Paola Pillows will be in residence at the Washington Garden Show in Washington CT end of this month. Stop in if you're in the area and squeeze a couple pillows. You won't be able to resist them! OR, check out our full line online.
Save
Save
Save
Save
Save
Save
Save
Save
Save
Save