Spring is sprung. New life and…new products. On the planning for a new show, (We were juried into the 32nd Annual Craft Festival at the Bruce Museum in Greenwich. We'll be there May 19 and 20. From 10-5:00. Hope to see you there) Check out the other artists too! We have a 10' white tent and tons of pillows for sale, with and without fabulous down inserts.
Scarves Incoming!
I've designed three scarves, printed on a wonderful filmy chiffon.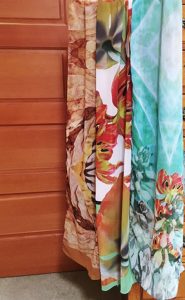 Currently our size is 72" x 17"- great for wrapping. Using floral images similar to Paola Pillows, but intended as personal adornment. Sound good? I have a million design ideas burning to get out. I'll be looking for feedback on scarves at the Fair in May. And pillow sales!
All over the garden, I can see little green shoots and new tulips emerging. And the mulch has landed….New grasses and some petunias to be planted very soon. The rain has been a blessing and the weather has been IDEAL for young buds.
Sting & Shaggy. Jamaican born Reggae musician, Shaggy and Sting, an all- time English phenom. New album is called 44/876. I love how different they are. Shaggy is so… himself. Their voices work really well together. Don't Make Me Wait on the Queen's Birthday.
Lots of Paola Pillows for sale, need to  make room for our next design projects. Check out our existing designs here. Contact me.