Fall is creeping into Litchfield Connecticut. Woodland, an autumn Paola Pillow, is once again, making her seasonal debut. Hostas of all kinds are delightful, as they reappear effortlessly each Spring. Woodland is a nod to the more mature hosta….full of all warm shades of brown, tan and gold.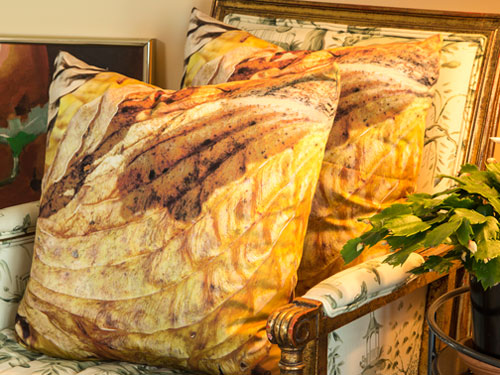 I love what cold and bright autumn sun do to a hosta leaf.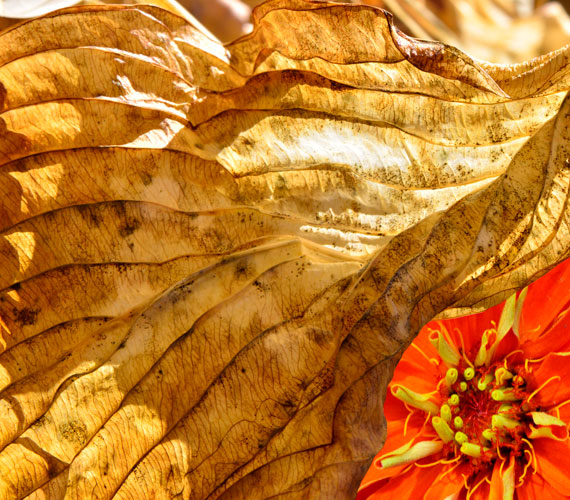 I have two bareroot hosta plants coming any day. An Aphrodite Hosta- alarmingly fragrant, large white flowers, ( with boring leaves). AND, a White  Feather Hosta, which supposedly has all white leaves. Can't wait to see them in Spring.
I'm following a cool site called designboom on Instagram featuring design. Nice modern sensibilities in a digital art/architecture magazine. I saw two really nice outdoor installations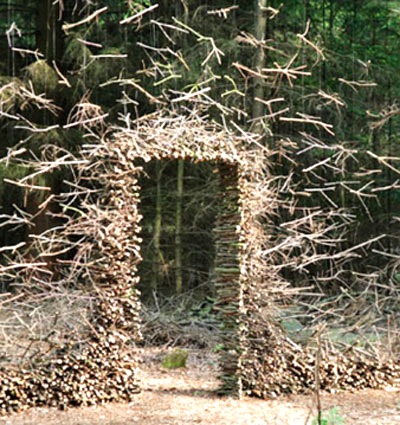 by an artist called Cornelia Konrad who makes "gravity defying" art. ( you could "google image" her to see more pieces- very cool.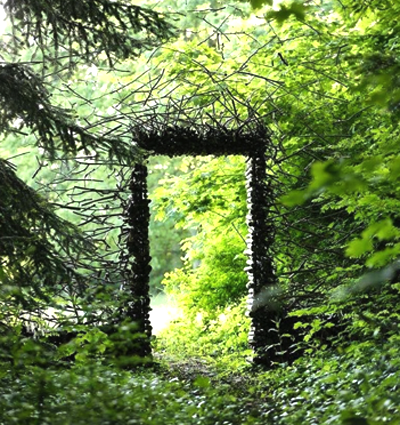 As you may know, I've been doing extensive work on our to- be- enclosed garden. The last step will be to close it off, but how? If not black metal…an opening manufactured of natural materials? Pretty cool.
I also enjoyed this interior design idea from,Turin Italy.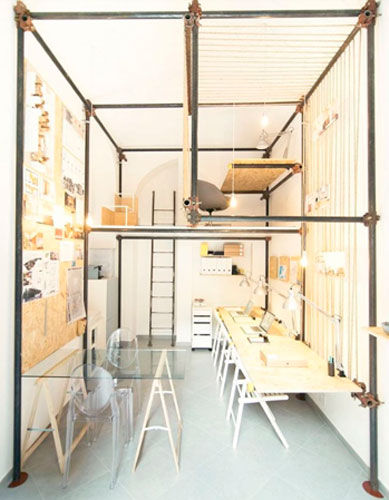 Very simple- you start with a frame placed in your space and use it to create opportunities for living or working in.
My son, Aaron, is a painter living in Brooklyn. For the last decade or more, he's created a studio for himself in his bedroom by utilizing the two- story room, building up his bed frame so high, he and his wife sleep close to the ceiling. This frees up space for his painting studio underneath their bed. Luckily, they're both in tremendous shape.
So much about design is detaching from the status quo, stepping back and   freely starting something entirely new. Of course, giving yourself the approval to do it could be the hardest part.
I have few memories of Aretha Franklin in her early years, except the sound of her voice. It was great to see this video of her performing "Won't Be Long" on the Steve Allen Show- 1964- which makes her 22 years old.
Like many successful black singers, she got her start singing gospel in her preacher father's church as a child. Given that her father was known as the man with the "million dollar voice", it's no wonder that Aretha emerged with a million dollar voice of her own.
Related Images: