It's 75 years since "Somewhere Over the Rainbow" was written for the Wizard of Oz. The song by Harold Arlen with lyrics by E.Y. Harburg won the Academy award for best original song and became a signature song for Judy Garland.
As a little girl, I spent a lot of time reading- and fairy tales were a favorite pastime – in addition to watching movies like The Wizard of Oz. In that story, the girl escapes into a land of color and drama from the harsh reality of her life over which she has little control.
Creating beauty has always been an integral part of living life for me. It can take many forms depending on who you are and what you gravitate toward. It doesn't have to be something far away. I still remember my excitement when Dorothy walked out of her black and white existence into a full color garden. A brave new world.
We can each do that in our homes. Making beautiful pillows is one way I bring beauty home- each pillow is a work of art. And unlike a lot of art, it's made to be enjoyed close up. On a couch, or the floor, under your head. Which is another reason, I make them washable- Beautiful and practical.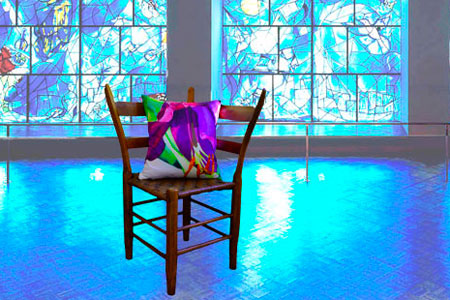 Paola Pillows are often quite colorful. Consider your entire space, how it's broken up, and make sure that you maintain a balance of simplicity, openness and light as a backdrop for your special things.
For some, homes are designed around their art collections. Here, you see how they showcase their art: http://tinyurl.com/ptpodyk
Enjoy Judy Garland's version of one of my favorite old songs. (I prefer it to Pink's from 2014) http://youtu.be/U016JWYUDdQ
Also interesting for those of you who enjoy music, consider a musical interpretation of the tune itself from pbs.org. http://tinyurl.com/nm3wmap
Whatever you do today. Seize the day and make it a beautiful one for you and yours.