We were bereft of roses in the gardens this year. Truthfully, our new property isn't very rose-friendly. I have maybe three, scrubby little rose bushes that didn't even deliver the meager assortment of flowers they might have due to an early cold snap and little rain this summer.
I hope one day to come back around to roses. The amount of shade and poor drainage has led to us to a different type of gardening. Hostas and more hostas.
In the meantime. What's a girl gardener to do when Connecticut is in the middle of drought conditions? I just learned that wells are even drying up. Conserve and stretch out your watering. We're thinking about catching rainwater next year and positioning a rain barrel near the gardens farthest from the spigot. It cuts down on dragging very long hoses which itself is a deterrent enough.
Did you notice the astilbe and lilies were slow to bloom too? When they did, it was very short-lived. Astilbe do best when watered regularly, especially if you want good sustained flowering. I just relocated several small astilbe to bring them closer to the house so I can maintain better watering next year. Keep that in mind when you're planting water-hungry plants.  Plant closer to the house, or, you'll do as I have….neglect them!
If you planted new or transplanted old  bushes, be sure to water them daily so they don't suffer too much. Even established bushes are struggling this year. Ornamentals like azaleas- which have very shallow roots, are at risk. Be sure to keep their roots lightly covered with 2-3 inches of soil or mulch and water a few times weekly.
Azaleas are a "spring only" prune plant- right after blooming, so put away those pruning shears till next year. Pruning late in the season can stress a plant and even remove buds already set for next year. ( this includes hydrangeas) More azalea info here.
If you have clumps of perennials, and are motivated to divide them, that's good, as perennials bloom better once divided. Dividing perennials should be done soon after blooming in summer, into early fall-  every two to three years.
Update status on the new garden. The Green Velvet are here! Planting this week.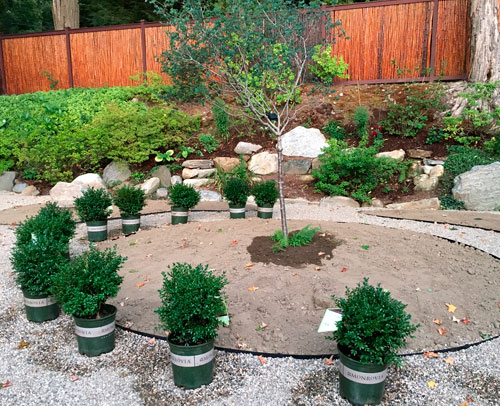 Speaking of division. Adele recently released a new song called " Send My Love (To Your New Lover)." Are all Adele's songs heartbreakers? Interesting percussion, and of course, that great voice.
Peachy is one of my favorite Paola Pillow roses….She's one of three pastel roses- great stand alone design or together with companion roses.