Last week I had the pleasure of attending "Talking Textiles"a one-day symposium at the New School in New York. Lidewij Edelcourt, Dean of Hybrid Studies and founder of Edelcourt, Inc., spoke eloquently on the re-creation of ancient fabrics.
Part of Li's talk highlighted age old customs, where people used and re-used clothing remnants, upcycling cocoon leftovers from the silk harvesting process – even redoing the results with smashing indigo colors. "NUNO" (the Japanese word for fabric) was founded in 1984- blending traditional and contemporary, old and new technologies.
This great image is a photo of  tiny,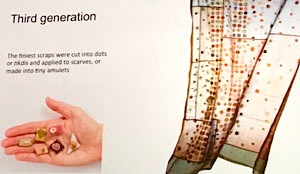 embroidered fabric jewels made of third generation material re-purposed for beautiful muslin scarves in West Bengal India.
Can you imagine wearing pieces of your great grandparents favorite clothing? I remember combining leftover fabric scraps with new material to create wall hangings. I still have the first banner I ever made incorporating rose cotton velvet- leftovers from my brother's bridesmaid dresses. Nostalgic memories taking one back in time and a"place" for reflection in the midst of today.
The very latest in vintage clothing.
KUON revitalizes traditional Japanese Boro. "Boro" is the name for worn, used textiles. Patched clothing from even 150 years ago when cotton textiles were so valued that every scrap was saved and salvaged, then made beautiful again through a techniques like Sashiko. Surface designs embellishments on newly rearranged fabric scraps.
We saw and felt a KUON blazer. It was wonderfully sewn and soft, so comfy you'd want to wear it every day. Very high line styling though-not everyday vintage clothing. KUON "creates entirely new patterns from scratch, disassembling the textiles into pieces, reconstructing them artfully into modern men's fashion."
More indigo please.
BUAISOU was founded in 2012 in Japan by two indigo farmers and dyers, Kenta Watanabe and Kakuo Kaji. Tokushima is renowned its indigo leaf farming, and tradition of composting the indigo leaves into Sukimo. BUAISOU Brooklyn was founded in Bushwick, Brooklyn in May 2014 and holds workshops with the SUKUMO vat, created with ingredients shipped from Tokushima. They also custom dye for a fee.
Paola Prints on 100% cotton sateen
Paola Pillows are made from smooth and soft shiny cotton sateen. Printed using fiber reactive inks means that the cloth is washable- what better fabric to showcase beautiful natural plants and flowers. After washing, the pillow covers become softer overtime- perfect for a clean soft, resting place after a long day at work. Who wants to snuggle up to heavy rough, upholstery when a sunflower will do?
Musicians re-create themselves too.
Ike Quebec, born in Newark in 1918, was an accomplished piano player and dancer, who switched to the tenor sax in his twenties, and began his career in the big band sound of the 1940s. He first played with a band called the Barons of Rhythm- and was kown for his big breathy sound-which drew me to a classic, recorded the year before he passed of lung cancer.
"Linda fior" 1962 from his album Soul Samba – an awesome album all around. Hope you like Ike too.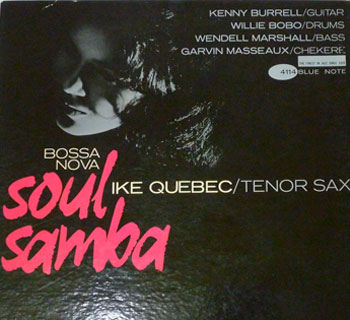 Ike's exeptional sight reading ability led to his being an uncredited arranger for many of the Blue Note Record sessions, in addition to helping pianists like Thelonius Monk and Bud Powell come to attention. Ike struggled with drug addiction and the fading of the big band sound but performed and recorded a series of albums through the 1950s.
Related Images: