Ok, I'm not a huge Pantone color of the year follower EXCEPT when I love the color. That would be Living Coral for 2019. Orange and pink, all rolled together. Living Color just happens to be the dominant hue of two new Paola scarves. Bouquet One and Two. I put my daughter Bridget into both to model for this post. Do you love the rose overplay of Bouquet Two? I added a translucent rose over top of the basic Bouquet One. I find both adorable but that could be my fixation on those hues.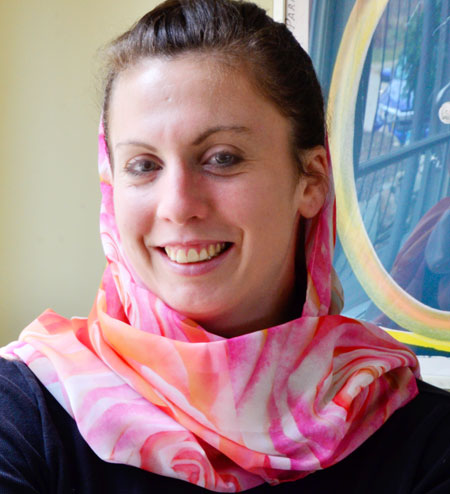 Sewing has become a respite for holiday craziness. I've been thrilled with scarf orders this first holiday season for Paola scarves. Although each scarf is made to order, I order three at a time, which allows me to gain a little extra inventory. I decided to do two holiday fairs which meant sewing them ahead to have ready for sale.
Good news! I have six beautiful scarves ready to go and looking for a good home. One of those is Bouquet One (shown above). Could one be yours or is there someone you want to gift one to?  Check them out here.  
If you order one of these scarves by end of day Monday, I will mail Wednesday AM, December 19, you'll have it for December 25. Text/Call 203-206-5819 (EST) or email me at mary@paolaprints.com ASAP
Scarves are $42.00 each plus shipping USPS, $7.25.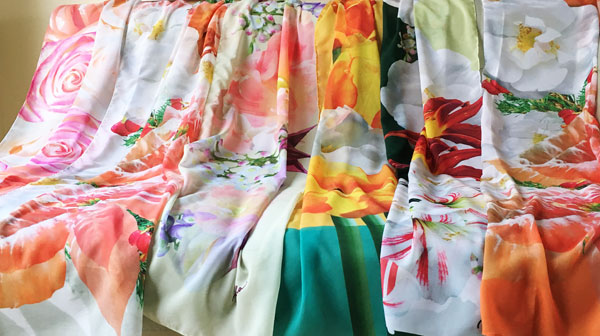 Pantone's Living Coral- More about that here.
Using Living Coral in Your Home– Sometimes these articles have good ideas. Don't feel stuck on them. Use some and make up your own combinations. The thing about color. You have to love the colors you choose. They're yours.
I love this video. I'm new to Brandi Carlile myself. I'm so proud of her in this song. Are the sentiments new? I don't think so. However, THIS is America. This is MY America-OUR America. What about you? The Joke.